Work on the approach road to the Berbice River Bridge is continuing apace with the laying of asphalt on the right-hand side last week, linking it to the left.
The project is being undertaken by the Dipcon Contracting Company and is expected to be completed in April and the contractors are confident that the deadline would be met, though sources said it was slightly behind schedule.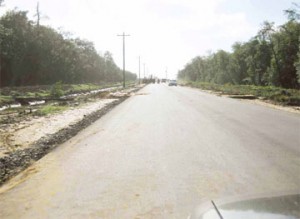 An official told this newspaper that delays were caused by the difficulty encountered in sourcing materials for the job. The official said the suppliers would promise to deliver the materials and preparation would be made to receive them, but they were not reliable.
A source pointed out that the road was operable since the December 23 opening of the bridge and also blamed that somewhat for the delay.
"If they had not forced the opening of the bridge we would have been able to complete a lot of work because sometimes we would have the materials but cannot do much because of the traffic," he said.
He stated that in the rush to finish the bridge the design was changed and temporary work – which still needs to be corrected – had to be done. The junction at the Palmyra end also has to be widened. The contractors are also currently carrying work on the New Amsterdam/ Molsen Creek highway.
Around the Web