The Guyana Defence Force (GDF) will be intensifying its presence in Region Nine (Upper Takutu/Upper Essequibo) as the area develops and the Takutu Bridge, linking Guyana and Brazil, is opened.
This pledge was made by Chief of Staff of the GDF, Commodore Gary Best,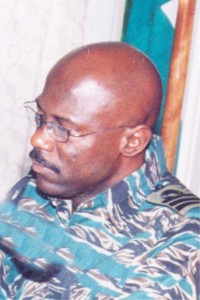 who reaffirmed his commitment to protecting and securing Guyana's territorial borders, the Government Infor-mation Agency (GINA) reported.
Best, along with Minister of Amerindian Affairs Pauline Sukhai, Region Nine Chairman Clarindo Lucas and other technical officers from the GDF, Guyana Police Force and regional officers, were at the time on a visit to South Central Rupununi on March 5 and 6.
The team met and held meetings with residents at Aishalton, Shulinab, Sand Creek and at Lethem.
GINA stated that with Guyana and Brazil establishing closer links with the completion of the Takutu Bridge, and the expected increase in economic activities, the Chief of Staff reminded residents that the GDF has a mandate to protect Guyanese and the country and said that the army stands ready to continue to work with all the sectors and Ministries and to serve communities.
GINA reported that residents were mainly concerned about the rustling of cattle across the border and requested that the army increase its border patrols. Commodore Best agreed to the request which he said will be implemented over time and further stated that the army will be resuscitating its reserves and mountain rangers in the Region. According to GINA, he explained that the issue of security is everybody's business, pointing out that fortnightly patrols are done in the North Rupununi. He encouraged villagers to join the military and the police force to help to protect their communities.
The Chief of Staff emphasized that the approach to security has to be an integrated one where the communities and the officers work together, and respect the culture of the region's peoples.
He noted that the GDF will not condone any actions otherwise and expects the same from them as citizens' co-operation is important, GINA said.
It noted that the GDF has a base in Lethem and at present, Commodore Best said that the army is working to strengthen its fleet to carry out more patrols. According to GINA, residents said that they would normally patrol the borders, but they are not equipped and Best told them that they first have to be trained in using equipment and as such should join the reserves.
The Chief of Staff underscored the GDF's interest as it relates to border security and noted that the army will have to, along with the villages, work on an approach to address the issue of cattle rustling. He also inspected the new area for the relocation of the army's base, GINA reported.
Around the Web