A Guyana Defence Force (GDF) corporal died on Saturday night when the motorcycle he was riding collided with a car on the Friendship, East Bank Public Road.
Dead is 22-year-old Corporal Horace Calvin Bagot better known as Mannie Bagot of 66 Bent Street, Werk-en-Rust.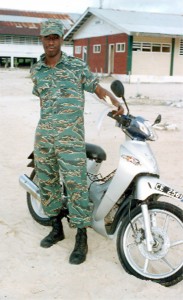 Shondel Price, sister of Bagot, yesterday told Stabroek News that the family received the news of her brother's demise when a member of the army contacted a cousin of theirs.
She said she is not sure how the accident occurred but was told her brother was riding his motorcycle, CC 7420, on his way to work at the Timehri army base when he collided with a car.
Police officers at the Providence Police Station told her that public-spirited citizens took the young man to that station and reported that he was turned away at the Diamond Diagnostic Centre.
The woman said the officers were unclear as to why the centre declined to accept the young man but she opined that it could have been that he was already dead. Police told her that on arrival at the Georgetown Hospital he was pronounced dead.
No police officer had arrived at the scene of the accident when Bagot was removed by persons in the area and Price questioned why after he was refused at the centre the persons did not take her brother to the Grove station which is closer.
She said officials from the army have since visited the home and she related to them what she was told and they promised to investigate.
Employees of Lyken funeral home took Bagot's body from the hospital at around 10 pm on Saturday night.
Price said when she viewed her brother's body yesterday head injuries were evident and his right leg appeared to be broken. She said a post-mortem is expected to be performed. The sister could not say if the police arrested anyone or what had happened to the driver of the car.
Bagot, who is the sixth of eight children, joined the army in 2005 and had been stationed at Timehri all the time. Police are investigating.
Around the Web