Guyana's first-ever wedding expo is scheduled for March 28 and 29 and is intended to give couples an idea as to how to make their wedding a truly memorable event.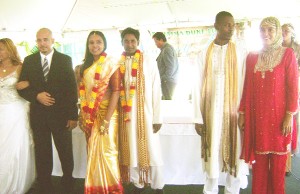 It also promises one potential bride and groom the wedding of their dream.
The expo is organised by Roraima Airways which has a number of businesses in the travel and tourism sectors and will be held at the Duke Lodge, Kingston which is owned by the Roraima group.
Capt Gerry Gouveia, Head of Roraima Group said the event is expected to be an annual one. According to Gouveia, his company has hosted several occasions and has become aware of the fact that persons often encounter difficulties in the area of planning. As a result, the Roraima team has decided to lend assistance.
The wedding expo will cater for Christian, Muslim and Hindu ceremonies.  The expo is also expected to bring together leading individuals and businesses that possess the necessary knowledge of wedding planning.
Exhibitors will be drawn from various backgrounds including: photography, car rentals, cake makers, event planners, florists, venue providers, beauty salons, makeup artists, wedding decorators, dressmakers and boutiques; but this list is by no means exhausted as there are other areas for exhibitors come March 28 and 29. The expo is said to be the ideal opportunity for persons wanting quality and professionalism.
Among the coordinators of the wedding expo are: Pamela Dillon of Simpli Royal, Sybris Harvey-an event planner and Managing Director of Roraima Airways Debbie Gouveia. According to Dillon, "this expo will be one to make the event truly memorable." She also added, "it is hoped that the expo can be picked up by the Ministry of Tourism and will invite exhibitors as it seeks to be an annual event."
Dillon said the expo marks the beginning to render assistance in event planning areas such as showers, bachelor and bachelorette parties, balls and anniversaries just to name a few.
Minister of Tourism Manniram Prashad will declare it open. The event will also be placed on the national events calendar of the Ministry of Tourism.
Around the Web