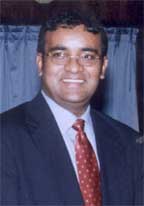 President Bharrat Jagdeo has decided that air traffic controllers (ATC) be given a 5 per cent payment increase retroactive to last year but the Guyana Civil Aviation Authority (GCAA) would  have to "trim itself (so)  that this cost is natural to the budget."
Speaking at a press conference yesterday President Jagdeo said he met with some of the workers earlier in the day and after some discussion he decided they would get the 5% increase.
While the workers were hoping to receive a 10 per cent increase in wages and salaries for last year and salary and leave advances, a source yesterday told Stabroek News that from all indications the workers would accept the president's offer and continue working. The source pointed out that their strike action was a last resort and not something they had desired but it appeared that if they did not down tools they may not have received any increase.
Stabroek News understands  that at the meeting were Minister of Transport and Hydraulics Robeson Benn and Finance Minister Dr Ashni Singh as well as Director of GCAA Zulfikar Mohammed.
According to reports reaching this newspaper the president directed that the three, Benn, Dr Singh and Mohammed meet with the workers to address the issues of substantive appointments as well as maximum work hours per month for Air Navigation Services staff. Also to be discussed are better training for staff and duty-free concessions for senior staff members
President Jagdeo yesterday said that he made it clear to the workers that when the GCAA became a semi-autonomous agency they along with workers of similar agencies were transferred from the public service upon conditions no less favourable than those they were receiving previously.  The president said he pointed out that not only were the workers treated preferentially but they also saw a "huge jump in salaries."
According to the president when government decided to make the agencies semi-autonomous it had to decide what revenue streams they were assigning to those agencies. He noted that the revenue not only had to cover the cost of wages but also operations and capital costs. However, the president said that in the case of the aviation sector the government had to find $700 million to improve the facilities at the airport so that ATCs could have a better and safer work environment.
The ATCs returned to work on February 5, almost one week after they had downed tools at the control tower, causing the airport's operations to be confined to daylight hours only.
Their industrial action had earned them letters of dismissal following Benn's ultimatum on February 4 that they return to work or be fired, which they had ignored.
When President Jagdeo returned to the country the next day, February 5, he told the ATCs through a representative who met him at the airport, that should they return to work by 2 pm that day, the dismissal letters would no longer take effect. He had promised to meet them in "a week's time" but only met with them yesterday.
Prior to the president's move Benn had said that the government had "bent over backward" and sequestered $660 million to procure and install urgently needed equipment which included distance measuring equipment and a high frequency radio, among other items. He said the cost of the equipment was $780 million and the Guyana Civil Aviation Authority (GCAA) had to transfer from its surplus monies its contribution towards purchasing the equipment. The minister had pointed out that the GCAA relied on a government subvention to get its work done.
However, the Guyana Association of Air Traffic Control Officers (GAATCO) had argued that the government had taken a US$30 million loan to reform the aviation sector and this money, according to its interpretation of the technical report issued in August 2000 by the International Services UK, should have been used during the first five years of operation to replace all the navigational aids and equipment. Seven years down the line this has still not been done and GAATCO is questioning where the money went.
They recalled that Benn, who had stopped a payment the GCAA was prepared to give employees last year, had said there was no money to pay them yet they were seeing "all kinds of unnecessary expenditure."
They cited landscaping around the CJIA tower, painting and even covering of floors. "These are being done especially at a time when you are telling employees that you have no money to give them," sources said.
Around the Web