With less than a month remaining before Police Commissioner Henry Greene reaches retirement age, President Bharrat Jagdeo is not saying whether he will grant him an extension of his term.
Asked about Greene yesterday, Jagdeo said  "no decision" as yet and indicated that an announcement would be made at an appropriate time.
On December 31 last year, Greene was confirmed as substantive Police Commissioner after serving  in an acting  capacity for nearly two years.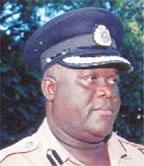 At the time of the appointment, there had been concerns about Greene's appointment, in light of both his age as well as allegations made by the United States that he had benefited materially from the drugs trade. It was on this basis in 2006 that the US revoked Greene's diplomatic visa and a visitor's visa as well. However, Greene categorically denied the allegations and he stood by his initial statement on the issue at his confirmation. "I have never been involved in any drug activity with any drug lord and I maintain that position onto this day," he said.
Around the Web