Three persons sustained burns about their bodies and had to be treated at the Fort Wellington Hospital when fire completely gutted a two-bedroom house at Bath Settlement, West Berbice around 9.15 pm on Sunday.
Owner of the house, Munilall Ganpat, 34, called 'Mara-man' or 'Ganesh,' a cane-harvester at the Blairmont Estate suffered burns to his hands, feet, back and face after he ran back in the house to ensure that family members were safely out.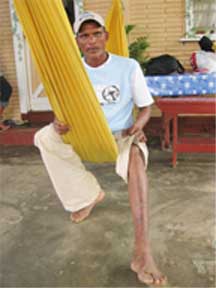 His 13-year-old daughter, Hemwattie called 'Baba' was burnt on her face as she tried to escape the inferno while his brother-in-law, Shivkarran Kishoredat of Cotton Tree sustained injuries to his left foot. Kishoredat who was spending the night at the house with his wife, Nafeeza Nizam and their two children, aged five and six told Stabroek News yesterday that he was already safely out of the house but had run back in to get Ganpat out when he was burnt.
He said after the fire started in the kitchen, he broke the louvre window in the bedroom and threw his children out.
The children landed on a zinc shed before rolling to the ground unharmed. He and Nafeeza also jumped through the window.
Kishoredat said that within 20 minutes the entire building was completely engulfed as they watched helplessly. The Blairmont fire tender arrived at the scene around 10 pm and managed to quell the blaze.
Ganpat and his wife, Halima Nizam, 32, and their children, Sookdai, 15, Hemwattie, Basmattie, seven, and Kumarie, aged six are now staying with relatives in the village. When this newspaper visited them yesterday, Ganpat had gone to the bank to make an appeal for the repayment of his mortgage to be extended.
The man told this newspaper via telephone that he built his house one and a half years ago after taking a loan. He said he would not be able to work until another four months and was worried about being able to repay the loan and about taking care of his family.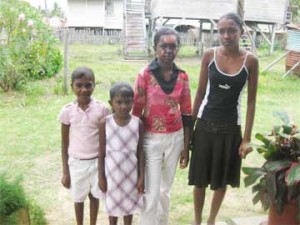 According to Ganpat, he did not realize his children were out of the house and while trying to locate them, a mat he had in his hand caught fire and caused him to suffer more burns.
He said his wife had opened the front door and she and the children had already run out. He said five minutes after he came out of the house it fell to the ground.
Ganpat related that his wife attempted to throw two buckets of water to out the fire "but that couldn't do nothing, the breeze de too strong."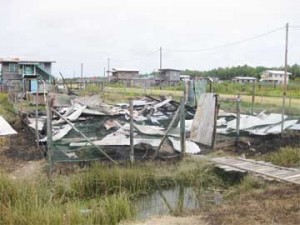 Around the Web