More than a month after three persons were held over the illegal connections that were discovered by power company employees in the Maraj and First Federation buildings, it is unclear if criminal charges were laid.
This newspaper has contacted several senior police officers in relation to the suspects, but none of them could say whether they were released or charged.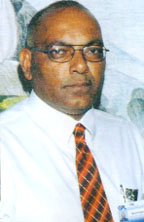 Chief Executive Officer of the Guyana Power and Light Company (GPL) Bharrat Dindyal had said on a number of occasions that once persons are arrested over illegal connections, the matter becomes a criminal one and is handled by the police.
Contacted recently, he said he did not know what happened to those arrested. He stated however that the power company had met the owner of Maraj building and the current standards there and as well as the upgrading of the electrical architecture were discussed.
He said the owner of the other building was yet to be identified.
On February 5, GPL employees accompanied by police ranks swooped down on the two locations and discovered around 25 illegal connections. Businesses, educational facilities and a barrage of lawyers' offices are located in the buildings.
One of the persons was arrested in the First Federation building while the other two are from the Maraj building. They were described by Dinydal as tenants.
During an interview with Stabroek News last month, Dindyal had said that the illegal connections were attached to an internal distribution network on the various floors. When asked why more arrests were not made if the illegal connections were found in various rooms, he pointed out that when persons saw the police, they went into hiding. However he said that his employees took video footage at both locations.
The company's plan is to configure the system so as to decrease the likelihood of persons stealing electricity or accessing free power.
The First Federation building in particular was deemed "totally unsafe" by Dindyal and he had said that advice will be sought from the Chief Electrical Inspector on whether it is safe for GPL to continue offering service there.
In addition, employees were still trying to figure out the set-up in the buildings as some sections have a meter and it has been discovered that power has been connected to various sections from multiple locations. In some instances, the illegal set-up was running through windows at the First Federation building.
These raids were part of the company's exercise to rid the city's commercial district of illegal power connections.
Areas such as Water Street, America Street, Regent Street and Cummings Street have also been targeted.
Last week, the company deployed a "Loss Reduction Unit" to the Albouystown area to locate and disconnect over 300 illegal electrical connections.
Around the Web