An accident on Tuesday afternoon on the public road at Number 79 Village, Corentyne has left a 20-year-old man dead.
According to reports, Abdul Gaffar Satar also known as 'Kareem', of Lot 180 Rahaman Street, Number 78 Village died at the News Amsterdam Hospital some hours after his CBR motorcycle collided with a car.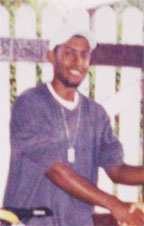 A police press release issued yesterday said that Satar was riding his motorcycle, CC 936, along the roadway and while attempting to overtake a car that was in front of him, collided with its rear.
The release said Satar lost control of the motorcycle, ran off the roadway and collided with a van that was parked in a yard. He was taken to the Skeldon Hospital from where he was transferred to the New Amsterdam Hospital.  He succumbed while receiving treatment.
According to an eyewitness, a white wagon-type car, PLL 8242, and the CBR motorcycle, which Kareem was riding were both proceeding "at reasonable speed". When they got to the "fisheries" where there is a "big hole" in the road, the eyewitness said, both drivers "like they want fuh use the smooth part", at the same time. The side of the CBR hit the side of the car the witness said.
The result of the collision was that Kareem lost control of his CBR and crashed into a yard. According to Kareem's father, Abdool Satar, around 16:30 hours on Tuesday a neighbour asked him to go with him on the road "up dah side". Not knowing what it was he decided to find out.
He told Stabroek News that before he got there, he saw the crowd and suddenly an "awful feeling" took hold of him. He said he saw the driver of the car and asked him "wha wrong?" The driver who was still in shock replied, "me nah know wha happen".
He subsequently enquired about his son and on seeing his condition, made sure that he was quickly taken to the Skeldon Hospital where he was admitted. At the hospital, Satar said, Kareem kept crying out for pain in his head and back.
Satar said he was not satisfied with the treatment his son received at the hospital. He said when he asked for his wounds to be treated and other things to be administered to his son the staff refused, saying, "like you want do we work".
When Stabroek News visited the Skeldon Hospital yesterday to seek a comment, the nurses on duty said they did not know anything about the incident. There was no doctor there yesterday when this newspaper visited.
Satar also alleged that there seemed to be a communication problem between the nurses at the Skeldon Hospital there and the Cuban doctor who was on duty. According to them, when the doctor, speaking broken English with an unfamiliar Spanish accent or Spanish, asked for different pieces of equipment, the wrong instruments were handed over.
As a result, he said, he and other family members there requested that Kareem be
transferred to New Amsterdam Hospital. They were told that the ambulance was available but
there was no one o drive it nor was there any available nurse to accompany him. Skeldon
Hospital had to call New Amsterdam Hospital for an ambulance. All this time Kareem was
bleeding.
Kareem sustained wounds to his left shoulder and broken arms and legs. He died at the New Amsterdam Hospital. His father told Stabroek News that his son bled to death.
Kareem attended New Amsterdam Technical Institute and was an agricultural mechanic at the Skeldon estate. He has left to mourn two sisters and his parents.
Around the Web