After seven hours of deliberation a jury yesterday delivered a unanimous verdict pronouncing Richard Reid guilty of murdering Michael Rodrigues in September 2002.
Reid, called 'Bully Boy', of Plaisance, East Coast Demerara (ECD) was sentenced to death by Justice Brassington Reynolds just after 6 pm at the High Court. The 39-year-old man murdered Rodrigues at Better Hope, ECD on September 15, seven years ago.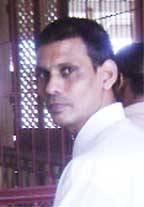 The deceased and Reid were involved in an altercation that day at a shop in Better Hope. Facts presented by the prosecution during the trial had stated that Reid stabbed the man and the murder weapon was later discovered by police in his home.
Attorney-at-law Compton Richardson, after Justice Reynolds summed up the evidence for the jury, attempted to explain the proceedings to anxious relatives of Reid.
Three hours into their deliberation the jury returned before Justice Reynolds for further directions after which they were once again released to make their decision. Four hours later, a tense Reid stood in the dock as his fate was read to him.
Reid was represented by Richardson while the state's case was presented by Prosecutor Zamilla Ally.
Reid had begun his defence with an unsworn statement before the court in which he denied stabbing the victim. Meanwhile, the defence attorney in his address contended that the statements of the police witnesses were untrue. Richardson had contended that the confession said to have been given by Reid was a "fabrication".
Around the Web