A 42-year-old father of three was yesterday not required to plead to the charge of murder when he appeared before Acting Chief Magistrate Melissa Robertson at the Georgetown Magistrate's Court.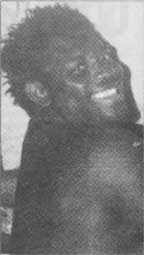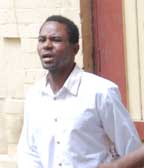 It is alleged that on March 24, 2004 at Georgetown, Trevor Edwards also called 'Phantom' of 317 West Ruimveldt murdered Desmond Proctor, also known as Desmond Chapman.
Stabroek News had reported at the time of the murder that Chapman, who was also known as 'Bad Man' had his throat slashed and sustained several other wounds and another man, called 'Foreigner' with whom Chapman had a confrontation also sustained injuries. Reports were that Chapman had chased 'Foreigner' into Edwards's shop, located in Meadow Bank, stabbed him and turned on the shop owner.
Chapman and a group of men had reportedly beaten 'Foreigner' over a debt he owed one of them but he managed to escape and ran into Edwards's shop to hide. After Chapman allegedly stabbed 'Foreigner' with an ice pick, the shop owner ousted him and his crew from the shop and this triggered Chapman's irate response.
He allegedly left the scene and returned with two cutlasses, stormed into the shop and attacked the shop owner. A fight then ensued between Chapman and the shop owner who allegedly stripped Chapman of a cutlass and dealt him several chops with it. Chapman collapsed and died after a few steps and the shop owner immediately went into hiding.
When given a chance to speak in court yesterday, the self-employed father of three declined.
When asked by the magistrate where he had been since the incident as police could not locate him, Edwards replied, "I was in de bush."
Police Prosecutor Denise Griffith told the court that the defendant had been in hiding ever since the murder and he was caught and taken into police custody after members of a police patrol on duty in the Bartica area recognized him.
According to Griffith, "ranks that knew him and knew what he was wanted in connection with, identified him, handed him over to the relevant authorities and he was subsequently charged…."
Edwards was remanded to prison and his matter was transferred to Court Three for April 9.
Around the Web