What should've been a fun holiday outing ended in misery for friends and relatives of a 26-year-old woman who drowned at a highway resort on Wednesday.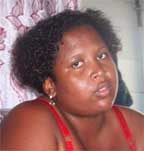 Tia Joseph left her Lot 1717 D'Urban Street home that day with a group of friends who were headed to the resort located along the Soesdyke Highway. Several hours after arriving at the resort Joseph was rushed to the Diamond Diagnostic Centre (DDC) where she was pronounced dead on arrival on Wednesday evening.
Joseph, sources said, entered the creek and "disappeared" a short time later. The woman's friends immediately began searching the water and she was subsequently discovered in an unconscious state and immediately rushed to the Diamond health facility.
When this newspaper visited the deceased woman's D'Urban Street home last night her brother, Wayne Joseph, was huddled on the front stairway sobbing.
"Tia was mother, father, brother and sister to he," a friend stated.
Several friends, some of whom were at the resort that day, expressed shock at Joseph's sudden demise. However, they refused to speak of the string of events which lead to Joseph's death.
Joseph's body was removed from the DDC at about 1 am yesterday by the Lyken Funeral Parlour.
Around the Web