-as US-funded HIV programme winds down
Minister of Health Dr Leslie Ramsammy yesterday urged HIV programme donors to avoid duplication and opt for sector-wide implementation so that beneficiaries could be treated not only for HIV but all other diseases prevalent in Guyana.
But he was quick to point out that he was not referring to the USAID/Guyana HIV/AIDS Reduction and Prevention Project (GHARP) programme, although he was speaking at its final public forum.
USAID/GHARP, one of the US President's Emergency Plan for AIDS Relief (PEPFAR) programmes, winds up its activities in Guyana at the end of next month. The forum was held over lunch at the Pegasus Hotel where programme heads presented on some of their successes and lessons learnt. GHARP was started in 2004.
Ramsammy said there were programmes that spend a lot of money in areas and provide services for people for a period of time, but then they leave and those persons are left stranded.
He said that had GHARP not followed his advice and implemented its Prevention of Mother to Child Transmission (PMTCT) programme at the antenatal clinics then a problem might have been created now as it closes its doors. The minister stated that the antenatal clinics provide services for other illnesses, while adding that most people living with HIV cannot afford to pay for the services provided.
With regard to donor funding, he gave an example of a nurse working at a health centre seeing hundreds of persons daily and someone in a "nice four by four vehicle, having sat in an office all day long, and coming to check to see how they are doing" while the nurse would have had to spend about two hours to get a minibus to get to work and would not be earning one tenth of the salary of the monitor.
"It creates its own problems; it creates its own dynamics, these…. are challenges that we would have to deal with," the minister said.
He said too that he has a problem with a programme being completed in one country and then shifted to another, noting that the answers to problems in other countries are not necessarily the answers to problems in Guyana.
According to Ramsammy, for Guyana to be successful in its fight against HIV, one that he is confident will be won, it has to work with one national strategy and he noted that his ministry is working on its third strategy.
According to the minister, Guyana spends US$80 per capita for health and "when the amount of money spent on HIV… surpasses the national budget for health there are question marks" and at some point people are going to ask about them not being able to get treatment for other illnesses.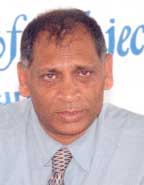 He said there was no sense in protecting people from HIV if they were going to lose their legs or lives to diabetes.
Ramsammy noted though that GHARP has a place in the history of the development of Guyana since it fought in the battle against HIV. He said Guyana as a poor country realised very early that HIV was a problem that needed to be confronted and if this had not been done the country would have been in a dire state.
He was high in praise for the support the country has received from PEPFAR and the US government adding that when history is written PEPFAR would stand out as one of the greatest public health initiatives.
The minister added that a dent has now been put in the armour of the HIV army in Guyana and he had the statistics to support his statement.
He revealed that at the end of last year 1.1% of pregnant women tested were HIV positive, while back in 2000 the number of positive pregnant women was between 4.9% and 7%. The number of infected babies born to HIV positive mothers has also been reduced. He said in the last two years of the 90 pregnant women testing HIV positive, only three babies were born with the virus.
The percentage of positive persons in the populations of commercial sex workers (CSW) and men who have sex with men (MSM) still remains too high, he said, although there has been some reduction. The minister noted that while many Guyanese have not come to the place where they can accept MSM they must acknowledge that they exist and they also need treatment and support.
Achievements
Senior Programme Officer of USAID/GHARP, Lisa Thompson, listing some of the achievements of the programme stated that during the years of its existence the programme supported the refurbishment of health care facilities to improve PMTCT activities and increased the number of sites offering PMTCT services.
Through the programme there was an increase in the uptake of antiretroviral therapy by HIV positive pregnant mothers even as work was done in collaboration with the Ministry of Health to provide training for health care providers. Thompson said Voluntary Counselling and Testing (VCT) sites were also refurbished while the programme's VCT mobile team provided services to the hinterland and hard to reach communities, workplaces and non-government organisations (NGOs).
Counsellors were also trained and there was a revision of the HIV counselling skills curriculum and guidelines.
In the area of prevention, Thompson said GHARP collaborated with other stakeholders in the development of a programme targeting in-school youth as well as one for out-of-school youth.
The programme also placed emphasis on CSW and MSM and in this area it developed programmes in collaboration with the MSM and CSW population and others through the Ministry of Health to target street-based, brothel-based  sex workers in Regions Two, Three, Four and Six.
Some 62 persons among the CSW population and 38 in the MSM population group were trained to implement the 'Keep the Light On' and 'Path for Life' programmes.  A national CSW and MSM peer education manual and other materials were also developed and were used with the target population, clients and partners.
And GHARP did not stop there as it also developed a commercially viable condom marketing programme that exceeded its goals. However, Thompson did note that GHARP "piggy-backed" on the existing private sector condom distribution system and supplemented and complemented it to make condoms widely and easily available throughout the country.
Orphans and Vulnerable Children (OVC) were also supported under the programme and various materials were developed to guide programme implementation.
Lessons learnt
Chief of Party of USAID/GHARP, Dr Kwame Asiedu, said that some of the lessons learnt from the programme were that the recruiting of qualified local staff, building their capacity and retaining them brings a sense of responsibility, accountability, ownership, accomplishment and ultimately success. He also pointed out that a well developed national programme with clear strategies, which is well funded in a low prevalence country helps to contain the epidemic and/or lower the prevalence.
He added that strong partnership and collaboration with the government and all stakeholders make a big difference in implementation.
"Involving all stakeholders in every step of implementation [of] what we were doing and that all were part of the problem identification and solutions contributed to us achieving our results," Asiedu said.
Asiedu supported what Ramsammy stressed in his address that supporting the national programme is more effective than coming in with one's own programme which might not be in line with the national programme.  He also said that a simple and straightforward strategy achieves better results than a complicated and not so easy to understand one.
The GHARP programme was supported by four overseas partners: Family Health International (FHI), Management Sciences for Health (MSH), Cicatelli Associates Incorporated (CAI) and Howard Delafield International (HDI).
Around the Web