Shawn Chatram, the husband of Shakiela Chatram, who was found hanging from the rafter of the couple's patio at their Nevis home on Wednesday, said that his wife had clinical depression tendencies.
According to a report on SKNVibes, Chatram, who is a gardener at Government House, said that Shakiela was taking medication for the condition.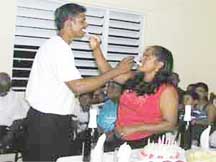 The report went on to say that Chatram, who is renowned for his Christian witnessing on the island, said there was no indication of what was to happen on that day as he and his wife did the normal things from the start. He said they had breakfast together and recalled kissing his wife of 22 years goodbye as he left for work, something he did daily. The couple also had lunch together along with friends and relatives.
The Chatrams were originally from Cotton Tree village, West Coast Berbice. Shakiela's father also took his own life by hanging a few years ago.
The SKNVibes report said that Chatram believes his wife took her life between 2:30 and 3 pm after he returned to work at 2 pm. He stated that his wife was a great homemaker; very neat and quiet, but friendly and said that they enjoyed a happy marriage.
SKNVibes also spoke with Pastor Eric Maynard of the Shiloh Baptist Church, which the couple attended.  Maynard said he could testify to the fact that she suffered from emotional problems, but she was reliable and actively involved in the church's outreach to children through the Sunday school and Bible Club.
Gavron and Areefa Woolward, who are regular visitors to the residence, visited the Chatrams a few hours before Shakiela died. They said both Chatram and Shakiela were jovial. The couple moved to Nevis 16 years ago and there they embraced Christianity. They were known by many on the island to be aggressive in their Christian witness and introduced scores of Guyanese nationals to the faith and regularly hosted Bible studies and prayer meetings at their home.
Chatram travelled to Anguilla and Trinidad on preaching engagements in the past and recently made a trip to Guyana and testified in his church.
Around the Web