The operations of a recently formed Guyanese/Brazilian sand exporting company, which has built a 150 feet wharf and an adjustable conveyor belt at the cost of US$2 million, were yesterday officially launched by Prime Minister Samuel Hinds.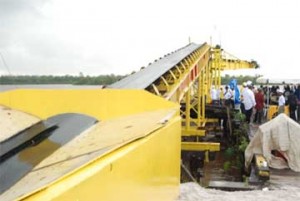 The Guyana Sand Port Incorporated is a joint venture between Sri Lankan- born but locally based businessman, Joseph Bhaskaran and Brazilian entrepreneur Rodrigo De Paula, who are both involved in the scrap metal business. Bhaskaran is the Managing Director of JB Metals while De Paula heads up the Brazilian company of Start Metal Trading Incorporation.
The establishment of the sand loading facilities at Lot 9 Coverden on the East Bank of Demerara took two years to be completed. The 150 feet wharf extends into the Demerara River with free area on both sides which would allow it to accommodate big barges and medium-sized ships.
The adjustable conveyor belt was fabricated and constructed by JB Metals.  The loading rate of the system potentially allows it to load a ship with 5,000 tonnes in a day. Additionally, the company has the facilities to store about 30,000 tonnes of sand.
The company has secured several sand mining areas where they can source sand and is immediately seeking to target markets in the Caribbean. Other markets in the US and in China are being considered, this newspaper was told.
Hinds, in his feature address, welcomed this partnership between a Guyanese and Brazil company and described it as a positive as Guyana strives for development.   He said that although some Guyanese are  skeptical about the increasing presence of Brazilians in the country , he said that this should be not be  the case since the country was willing to work with other nations in legitimate activities that would contribute towards the development of Guyana and the region.
He said that the exporting of sand was always an avenue that could be pursued since Guyana was blessed with this commodity. Hinds, performing the functions of President, later called on other business persons to emulate, assist and even to compete in this particular industry.
This new venture has created approximately sixty new jobs directly. Meanwhile, the company yesterday stated that it intends to develop another conveyor system which will function as a return system to unload bulk cargo coming into Guyana.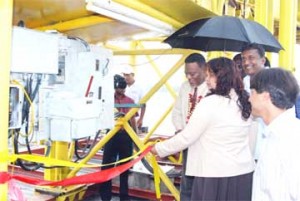 Both Bhaskaran and De Paula were appreciative of the assistance given to this project by Hinds.
De Paula said that he hoped that this project would not only contribute towards the country's development but that it would spark more joint ventures between entrepreneurs living in Brazil and Guyana.
Also in attendance at yesterday's launching were Brazilian Ambassador to Guyana Arthur Meyer, Head of the Privatisation Unit, Winston Brassington and Geoffrey Da Silva, the Chief Executive Officer of the Guyana Office for Investment (Go-Invest).
Around the Web