President Bharrat Jagdeo's statement on Monday last that he felt "vindicated" in not promoting retired army major David Clarke in 2003, because he was subsequently sent out of the army for wrongdoing, has raised questions.
"I have been vindicated in all of this, because subsequently they caught him involved in activities [and] he was sent out of the army," the President said of Clarke, who initially led army operations in Buxton after an upsurge in crime. Clarke is now sitting in a US jail on drug charges and may be the star witness in the Roger Khan trial.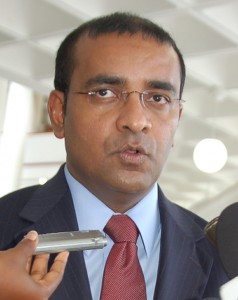 However, contrary to what the President said about Clarke being "sent out of the army" the man had retired and was not dishonourably discharged from the army; neither was he ever court martialled for any wrongdoing. And even though the President had blocked his promotion in 2003 he was still subsequently promoted and was a major when he retired.
When Stabroek News had contacted GDF Public Relations Officer, Woman Colonel Windee Algernon, about Clarke's status she had said that he had retired. She had explained that while he might not have reached the age of retirement there was a system in the army where an officer could retire based on the number of years served. However, Col Algernon could not say when he retired, and whether Clarke was asked to retire early or if he had opted for this.
It was in January 2003 that President Jagdeo had struck Clarke's name off the list of persons to be promoted, which had been sent to him by the army. At that time, senior officers had said that the Commander-in-Chief had just related that there was "something" that caused him to withhold Clarke's promotion. The President did not disclose then what it was and Clarke's superiors had vouched for his conduct and his performance at work.
"…I'm sure there are some retired people, who may be seeing this press conference, who can't look me straight in the face because he was involved," the President said on Monday in relation to the Clarke issue.
Stabroek News attempted to contact some of those "retired people" who would have been in the army at the time of the Clarke saga but so far none of them is willing to speak on the issue. This newspaper is also trying to ascertain under what circumstances Clarke was eventually promoted to major.
Less than a month after the President had refused to promote Clarke in 2003 his superiors sent him to the US on a five-month training programme.
However, when the Head of State got wind of it in May of the same year he immediately instructed them to recall the army captain to Guyana.
"When I found out, I said he must come back immediately because I felt that he was being rewarded for not being promoted and in defiance of my wishes that he would not be promoted, so I recalled him," the President said on Monday.
The then captain was recommended by a promotions panel chaired by then army Chief of Staff, Brigadier Michael Atherly, based on the recommendation of his battalion commander. The commander's recommendation was said to have been made on the grounds of Clarke's attitude and performance in his substantive rank, his suitability for promotion to higher rank and authority as well as his suitability for retention in the army. That assessment was reached following a recommendation of a promotion panel at the battalion level, which reviewed the ex-officer's annual confidential reports and assessed his suitability.
Jagdeo explained on Monday, that the Defence Act gives the Commander-in-Chief the sole authority to approve promotions. He said he was surprised to receive Clarke's name among those who had been recommended for promotion. At the time, senior army sources had told Stabroek News that nothing in the man's record indicated that he had behaved in an inappropriate manner either during his assignment in Buxton or at other locations where he was stationed. "I said to them, I am not going to promote him," Jagdeo said, adding that there followed discussions at a number of levels in the army where it was felt that he should have approved the promotion. "I said 'no.' It came to the Defence Board but I said 'No, he is not going to be promoted because I know that he was involved in various things from confidential information.'"
Jagdeo said he did not want to make the information public but he indicated that during Clarke's tour in Buxton he had received information that the officer was involved in various activities. "The information was not very complimentary," the President had said while adding, "I said to the authorities there in the army that I did not think that he was serving our best interests."
Asked why there had been no attempt to prosecute Clarke in the light of the information, Jagdeo responded that he thought the man had been prosecuted.
The retired major is currently in the custody of New York law enforcement officials after being charged with conspiracy to import cocaine. He is expected to be one of the main witnesses for the US government in its prosecution of accused Guyanese drug trafficker Roger Khan.
It is unclear whether Clarke has been tried, or has entered into a plea bargain agreement for a light sentence in return for being a state witness, since all information on his case has been sealed. However, according to the indictment on the first charge, Clarke, his brother Hubert Clarke, called 'Dun Dun,' and Hubert's girlfriend Shelly Mcqune, between October 2003 and April 5, 2005, together with others, knowingly and intentionally, conspired to import more than five kilos of cocaine into the US. They are also alleged to have conspired to distribute the cocaine in the US.
Prior to his retirement, Clarke had headed 'Operation Tourniquet,' which was established on June 5, 2002 as part of the Guyana Defence Force's (GDF) joint operations with the police force to arrest the wave of criminal activity emanating from Buxton, following the February 23, 2002 jail break.
Clarke was also one of the persons Khan and his attorneys, Robert Simels and Arianne Irving, had allegedly attempted to intimidate and "neutralise" resulting in them being hauled before the courts last year on witness-tampering charges.
Khan had made "assorted accusations" against Clarke and others at a meeting in March 2006 with US officials at the Ocean View Hotel. He had sought to provide "evidence" that Clarke had worked in concert with Shawn Brown, one of the five February 23, 2002 prison escapees.
He had alleged that during Clarke's tenure at the head of 'Operation Tourniquet' he was in league with Brown, who was responsible for kidnapping former US embassy officer Stephen Lesniak in April 2003.
In court documents filed by his lawyer, Khan repeated the allegations but the US government has since sought to disallow any evidence about Clarke's alleged criminal activities from the trial as they see it as "self serving" for Khan.
Around the Web