Policemen searching for a murder accused were fired at yesterday morning as they were surrounding a Laing Avenue house and a 21-year-old was shot in his right arm after the cops said he opened fire at them.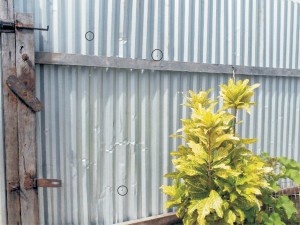 The murder suspect, Alpha Hudson, managed to escape. The police in a release said that Ryan Hescott, who has had brushes with the law and has several matters in court, is the man who was shot in the arm. He is now a patient of the Georgetown Hospital under police guard. An unlicensed .38 Taurus revolver, four rounds and two spent shells were recovered by the police, the statement said.
According to the police "As the ranks approached the house where the wanted man Alpha Hudson was hiding, Ryan Hescott opened fire on the police who returned fire hitting him to his upper right arm and recovering the firearm and ammunition. Alpha Hudson managed to escape".
Hudson is wanted by the police for the murder of Elson Fullington who was stabbed on June 23, 2005 at Avenue of the Republic during an altercation. Andrew Rodney was also charged in the matter and he has been committed to stand trial at the High Court.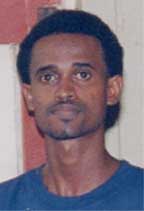 Stabroek News was told a number of policemen pursued Hescott onto Laing Avenue even as he jumped drains and attempted to cross the trench that separates the two streets. This newspaper was told that the lawmen recovered the gun, which the man allegedly fired at them, from the trench.
A muddied Hescott was taken to the Georgetown Public Hospital where he was treated.
'Taking a bath'
At the home of Hescott, Stabroek News was told that not only Ryan was taken into custody but a younger brother who was said to be taking a bath at the time. Relatives were reluctant to speak and would only say they don't know why the men were arrested as they have done nothing wrong.
The police release made no mention of a second man being arrested.
The younger of the two, according to their mother, who has had a lot to mourn in recent years as four of her sons died by gunfire, was taking a bath to go to church.
A male relative of the two said a number of lawmen entered the yard from the back as the front has a high zinc fence and is usually padlocked. Some of the police officers then kicked down the gate while others entered the house asking for someone called 'Alpha.'
He said that one of the lawmen pulled the younger Hescott out of the bathroom and they proceeded to beat him.
Meantime, Ryan on hearing the commotion reportedly exited the house and attempted to get away but the lawmen were quick behind him and he was eventually captured.
The relative said that one of the officers stood on their back stairs and fired a number of shots hitting the zinc fence in the process.
Stabroek News observed four bullet holes in the fence while the family recovered four warheads.
'Alpha'
"When they come in dem start to shout foh some Alpha but Alpha don't live here and I really don't know who is Alpha," Hescott's mother said when Stabroek News visited shortly after the incident.
"Girl, wah ah guh tell you, there ent much I can tell you right now," she continued.
"I tell them don't get Alpha coming around here, I warn dem about Alpha," an older male relative said while this newspaper was present.
The family members were more concerned about finding out what condition Ryan was in even as concerned neighbours enquired what had gone wrong.
"Dem ent find nothing pun dem boys, dem buys ent have nothing here," the male relative said.
Reports reaching this newspaper stated that about a month ago a group of men armed with AK 47s were in Laing Avenue looking for Alpha and chased him down the avenue.
He ran for his life with the men behind him and jumped into a trench and somehow managed to escape even as the men rapidly fired into the trench.
Days after, the man resurfaced and yesterday he again seemed lucky to have escaped the dragnet the police had set for him.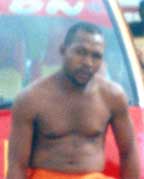 Stabroek News had reported in 2005 that unknown men on a motor cycle stabbed Ellington after the mini bus he was driving at the time jammed a car.
The conductor of the bus and neighbour of Ellington, Rudolph Abrams, was also stabbed and was hospitalised. After Ellington's bus jammed the car there was a heated argument. The owner of the car reportedly drove off for reinforcements. Later two men rode up on a red motorcycle and one of them pulled Abrams from the bus and dealt him several stab wounds.  Fullington attempted to rescue him and he was also stabbed and fell to the ground but his assailant continued to stab him.
Remanded
Last year March, Hescott was one of two men who were remanded to prison by Magistrate Hazel Octive-Hamilton after being indictably charged with possession of a firearm and ammunition.
Hescott allegedly had in his possession on February 12, 2008, one .32 revolver and two live .32 rounds of ammunition.
At the time his attorney, Adrian Thompson, had told the court that the charges against his client were trumped up.
He was subsequently charged along with another man with robbery under arms.
Hescott had appeared before Magistrate Octive-Hamilton and was not required to plead to the indictable charge of allegedly robbing Dennis Rampersaud of a shoulder bag, a quantity of raw gold, three gold rings and gold earrings, a total value of $1,096,500 at Brickdam, Georgetown. .
In March 2007 Hescott was also charged along with another man with robbing a Belgian diamond dealer of diamonds.
Shortly after that charge in March, Hescott lost one of his brothers to gunshots. Eighteen-year-old Dave Hescott's bullet riddled body was discovered amidst metal behind the furnace in Le Repentir cemetery. The young man had a gunshot wound and a stab wound to the back of his head and was lying face down when he was found. Dave was the fourth brother of the Hescott family to be killed by gunfire.
In November 2006 two masked gunmen riddled 39-year-old Shawn Hescott, another brother, with bullets as he sat talking with two women on Middle Road, La Penitence, a stone's throw away from his home.
The motive for that shooting is also unknown and so far no one has been arrested in connection with Hescott's killing.
In 1997, another brother, Adam Hescott, who was 22 at the time, was allegedly shot in the head and chest by a policeman. Hescott had escaped from the Camp Street prison, was re-arrested and was being taken back to prison. Relatives of Hescott and many residents in the area had witnessed the shooting.
Another brother died years before in an incident at Linden.
Around the Web