The UK-based Department for International Develop-ment (DFID) is partnering with the local aquaculture sector by providing breeding stock of tilapia, in an attempt to diversify and improve the local sector.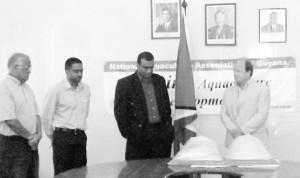 At a simple handing over ceremony yesterday, British High Commissioner Fraser Wheeler said that the partnership will see tilapia fingerlings being brought into the country to make a difference in local aquaculture, particularly by diversifying the sector.
This partnership will see the DFID investing a sum of £60,000, which Wheeler said will generate an expected income of US$70 million over a five-year period.
Meanwhile, Agriculture Minister Robert Persaud expressed his gratitude for this donation and applauded the High Commission for its continued support for agriculture.
Persaud said that the British High Commission has also helped in the rearing of Texel sheep locally, a fact that Wheeler also alluded to.
Persaud explained that some areas in the country have already been demarcated specifically to cater for aquaculture related activities and he hoped the land will be properly utilized towards the expansion and improvement of this sector.
Beni Sankar, the chairman of the National Aquaculture Association of Guyana (NAAG), also expressed gratitude for the donation saying that it may have been overdue but used the old adage that "it was better late than never." He said the NAAG was striving hard to improve the country's aquaculture and was hoping that by 2015 the sector would reach unprecedented heights and become the chief revenue earner in the country.
The DFID is the part of the UK Government that manages Britain's aid to poor countries and works to get rid of extreme poverty.
Around the Web