Cops still hunting suspect
Up to press time last evening, the police were still looking for the minibus driver who fatally stabbed his reputed wife on Thursday, moments after she left home for work.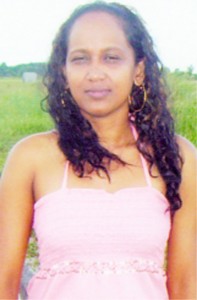 Stabroek News was told that no have been no sightings of the Berbice resident since the attack and he has not made any more threats to Savitrie Arjune's relatives.
The man had called the family of the 34-year-old mother of two, threatening to harm them. A relative said yesterday that they have not heard from the man since.
She said that on Sunday they were told that the police had caught him but when they went to the Providence Police Station they were told that it was not true.
Around 6 am, according to reports, the employee of Roti Plus left her Lot 382 Herstelling, East Bank Demerara home where she resided with her children and mother.
As she neared the public road, her attacker confronted her and stabbed her at least three times. One of the wounds was to the heart.
The man had earlier parked his minibus on the road, telling the 2 back. He then walked into the street where Arjune was. According to reports, the conductor later saw him returning to the vehicle with a bloody knife in his hand. But when he tried to question him, the man attempted to attack the conductor who ran away and informed the police.
The bus was later found abandoned near the Demerara Harbour Bridge.
According to reports from relatives, during the years that Arjune and the suspect were together, Arjune was threatened and abused. She finally made up her mind to leave the suspect last December.
Around the Web