Less than a week after issuing a wanted bulletin for a man called `Dougla' in connection with last month's shooting to death of a miner, police yesterday released some additional information about the suspect.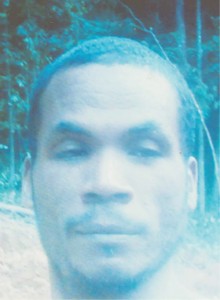 The bulletin that was previously issued only had a call name for the suspect and a blurry image of the man was provided. Yesterday the police released a better quality photograph.
The suspect Oscar Garraway called `Dougla' is a 26-year-old miner of Arakaka North West District.
Some three weeks have passed since Neville Melville was shot in the head as he slept in his camp at White Water Backdam, Konawaruk, Region Eight with no sighting of the suspect.
This newspaper was told that it is believed that the man is still in the country and is hiding out somewhere in the interior.
Melville's reputed wife Natasha Sookraj had told Stabroek News that the whole incident was fuelled by Melville's refusal to do another 'wash down'. This had apparently enraged the suspect, who was an employee.
The woman had recounted that Melville, the suspect and another man did a 'wash down' on Saturday morning but the process had only yielded an ounce of raw gold.
The other man left for Mahdia and that afternoon, the suspect asked Melville to do another 'wash down' but the man expressed frustration at their progress so far saying, "the… engine could park".
The woman had told this newspaper that she had awakened to the sound of a loud explosion around 3 am and she attempted to wake Melville but to no avail. It was when she saw blood on her hands that she realized that he had been shot. According to her, the suspect who had a haversack on his back was seen running out of the tent. She added that the area was lit by a 'bush lamp".
Help was later summoned at Melville's uncle's camp located about 20 minutes away and it was subsequently confirmed that he had been shot and was already dead.
Around the Web