One week after a father of four was badly burnt during a fire that destroyed his two-bedroom house at Bath Settlement, West Berbice he is still unable to walk and is suffering from severe pain.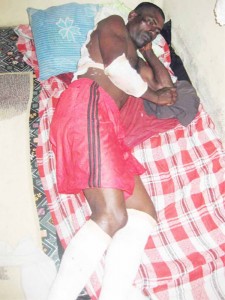 Munilall Ganpat, 34, called 'Mara-man' or 'Ganesh,' a cane-harvester at the Blairmont Estate suffered burns to his hands, feet, back and face after he ran back into the house to ensure that family members were safely out.
Hemwattie called 'Baba,' the man's 13-year-old daughter was burnt on her face as she tried to escape the inferno while his brother-in-law, Shivkarran Kishoredat of Cotton Tree sustained injuries to his left foot.
They were treated at the Fort Wellington Hospital and sent away. Munilall and his daughter have had to return to the hospital for further treatment. His wife, Halima Nizam, 32, told Stabroek News that her husband is still suffering from severe fever and is unable to walk.
The injuries, she said are barely healing and he is still in a lot of pain and discomfort as he cannot lie flat on his back. She felt that if he had been admitted to the hospital he would have been given better care.
The woman said that on Saturday night he was unable to sleep because of the fever and pain and at around 5 am on Sunday they had to rush him to the Mahaicony Hospital. She said after he was treated he was sent home.
On Monday morning she returned to the institution for his treatment which she administered at home.
This newspaper was told by an official at the institution, when contacted, that they do not have the facilities for burn patients and would transfer patients to the Georgetown Public Hospital, depending on their condition.
When Stabroek News visited Munilall he was lying on a makeshift bed on the floor at a relative's home where he and his wife and three other children, Sookdai, 15, Basmattie, seven, and Kumarie, aged six have been offered accommodation until they are able to find a home of their own.
He kept crying, not just in pain, but regretting that he was unable to put out the fire which started in the kitchen and quickly engulfed his home for which he still owes the bank.
He said after efforts to put out the blaze failed he concentrated on saving his family and ended up being burnt. According to Munilall, he did not realize his children were out of the house and while trying to locate them, a mat he had in his hand caught fire and caused him to suffer more burns.
He said his wife had opened the front door and she and the children had already run out. Five minutes after he came out of the house it fell to the ground.
He visited the bank the following day to make an appeal for the repayment of his mortgage to be extended. He built his house one and a half years ago after taking a loan.
He had said that he would not be able to work for another four months and was worried about being able to repay the loan and about taking care of his family. When SN returned to the relatives' home where he was staying he was afraid that the healing process may take even longer.
Kishoredat who was spending the night at the house with his wife, Nafeeza Nizam and their two children, aged five and six had told SN that he was already safely out of the house but had run back in to get Munilall out when he was burnt.
He said after the fire started in the kitchen, he broke the louvre window in the bedroom and threw his children out. The children landed on a zinc shed before rolling to the ground unharmed. He and Nafeeza also jumped through the window.
Kishoredat said that within 20 minutes the entire building was completely engulfed as they watched helplessly. The Blairmont fire tender arrived at the scene around 10 pm and managed to quell the blaze.
Around the Web