Commissioner of Insurance and Judicial Manager of CLICO (Guyana) Maria van Beek says that the Chief Executive Officer (CEO) of the local company Geeta Singh-Knight is still playing an integral part in its present operations.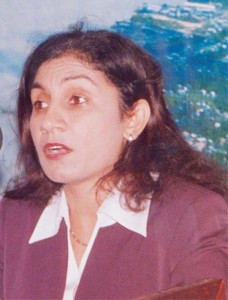 When Stabroek News contacted van Beek yesterday, she informed this newspaper that Singh-Knight and other staffers are currently assisting the accounting and legal investigating teams with their work, as the Judicial Manager is compiling her report to present to the Court.  This report is expected to be presented next month by van Beek, after she was granted an extension by the High Court on Monday.
On February 25, van Beek had moved to the High Court to have the local CLICO company placed under judicial management, following the order issued by the Supreme Court in Nassau to send CLICO (Bahamas) into liquidation on February, 24.  CLICO (Guyana) has an investment of $6.9 billion (US$34 million) in the Bahamian company, which although liquid on paper, has been tied up in real estate investments that CLICO (Bahamas) had in Florida via subsidiaries. This investment represented 53 percent of CLICO (Guyana)'s financial assets.
Following van Beek's appointment as Judicial Manager on January 25, all new business and renewals of contracts were ceased at CLICO (Guyana). Addition-ally all payments except the essential payments such as utilities were to stop until an analysis into the liquidity position of the company was completed.  Consequently, since February 25 no claims were paid and all cheques previously issued but not presented prior to this date were suspended. Van Beek also said  yesterday that the staff members are helping with the daily operations of the company. Meanwhile, van Beek stated that the positions currently held by all staff are being reviewed.  During a press conference last week, she said that none of the 90 employees of the company had lost their jobs and stated that they were very important to the current process that the company is undergoing.
Prior to the financial woes of CLICO (Guyana) being made public and even in the aftermath the CEO of the company Singh-Knight has shied away from the spotlight. Repeated efforts by this newspaper to contact Singh-Knight have proved futile.  Every time this newspaper called or visited her office, this newspaper was told that she was either "unavailable" or "in a meeting".
The only official word from her during this entire period came after the Trinidadian government moved to take over some C L Financial subsidiaries in Trinidad on January 31. The CEO issued a terse statement in which she said that the local company was solid and its statutory fund was in good standing.
In the statement, Singh-Knight said that the events involving CL Financial Limited would have no financial impact on CLICO Guyana. CLICO (Guyana) she said, was  a separate entity within the CL Financial Group, and none of its assets are intertwined with CLICO (Trinidad) or CLICO lnvestment Bank.
As news of the seismic developments in Port-of-Spain filtered down to Guyana, Minister of Finance, Dr Ashni Singh summoned CEO Singh-Knight and Commissioner of Insurance van Beek to a meeting to ascertain the extent of exposure, if any, of CLICO (Guyana) to the events in Port-of-Spain. The Govern-ment Information Agency (GINA) said that Singh-Knight confirmed in that meeting that the CLICO Investment Bank would be sold.
After this meeting, CLICO (Guyana) said that "The Guyana company, which is also a wholly owned subsidiary of CL Financial, has assured the Minister of Finance that these developments do not affect its operations adversely as it has no investments or dealings with sister companies CIB or CLICO (Trinidad)", GINA had also reported.
Neither of these statements made any reference to CLICO (Guyana) having 53 percent of its assets invested in CLICO (Bahamas).
Moving forward
During the press conference last week, van Beek said that the company is preparing to honour verified claims for health, fire, motor and other general insurance contracts. She explained that claims related to life and pension contracts will not be paid at this point in time since "the assets backing these claims are still being assessed and may be subject to litigation."  Further she said that "payment of these claims would quickly erode the liquidity of the company and affect its viability."
Van Beek, however, urged all "policyholders that have regular premium in-force contracts to continue to pay their premiums in light of the assurances given by the Government." She explained that failure to do so would severely impact access to entitlements "notwithstanding any guarantees." She further stated that "upon the expiry of renewable contracts such as motor policies, these policies will not be automatically renewed." She added that at this point, these persons should "seek alternative insurance arrangements." That statement appeared to be a signal that the company is definitely heading for winding up.
Around the Web