Over 50 patients were treated two Sundays ago during a medical outreach at Number 11 Village, West Coast Berbice, bringing an end to activities conducted in observance of Islam Awareness Week (IAW).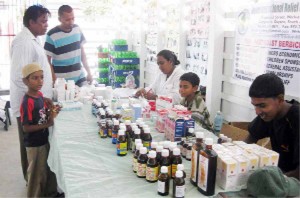 The outreach was coordinated by members of the Guyana Islamic Trust (GIT) which hosts IAW yearly in various parts of the country and by the Fort Wellington Hospital. This year the team for IAW which commenced on March 8 was; "Muhammad: Mercy to Mankind."
Patients between the ages of one and 79 years old were treated by Dr. Alexander Sinclair for ailments such as colds and coughs, back aches, high blood pressure and skin infections.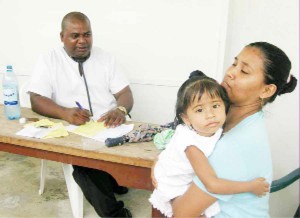 He was assisted by other staff of the hospital; a pharmacist, Feyaud Subhan, nurses as well as an intern attached to the Mahaicony Hospital, Dr. Reyaud Subhan and a pharmacy assistant of the Georgetown Hospital, Sheneeza Saywack.
Also present at the outreach was Regional Health Officer, Venus Smartt who complimented the GIT for "giving support to our regional outreach activities which we conduct regularly in outlying areas."
She told this newspaper that adequate drugs were provided to treat patients for their conditions while the hospital provided the medical equipment.
An organizer of the IAW in West Berbice told this newspaper that the Guyana International Relief Organization (GIRO), an arm of the GIT supplied the drugs for the outreach.
GIRO, he said also provided drugs to New Amsterdam, Corentyne and other areas such as Georgetown, East Coast, West Demerara and Essequibo where IAW activities were held.
According to the organizer other activities included a women's seminar, feeding the needy, hamper and clothing distribution, visits to the sick and evening lectures.
He said they also visited patients at the Mahaicony Hospital and offered prayers and presented them with gifts as well as information on Islam. The purpose of IAW was to raise "national interest and awareness of Islam as a divine, unique and complete system of life."
It also featured three Islamic scholars; Dr. Sabeel Ahmed of the United States of America and Shaikh Ziaullah Khan and Shaikh Mohamed Khalil Yaffa of Canada.
Dr. Ahmed is the director of GainPeace, an outreach project of Islamic Circle of North America and Khan and Yaffa are the director and Arabic language coordinator of the Centre for Islamic Development, Halifax, Canada, respectively.
Apart from IAW, the GIT also conducts outreach programmes throughout the year to benefit Muslims and non-Muslims alike.
Captions:
1..
2. Dr Alexander Sinclair attending to a young patient during the medical outreach.
Around the Web