Three men yesterday pleaded not guilty to two counts of simple larceny when they appeared before Acting Chief Magistrate Melissa Robertson at the Georgetown Magistrate's Court.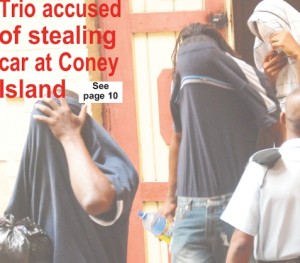 It is alleged that on March 11 at Georgetown, Deon Charles, 40, a taxi driver of 19 D'Urban Street, Lodge; Rondel Melville, 30, owner of Millo's Vulcanizing Shop of 20 D'Urban Street, Lodge and Sylvester Gonsalves, also known as Sello, 18, of 15 D'Urban Street, Lodge stole one white 212 Toyota Carina car, PHH 7025, valued $2.8M, property of Rameshwar Arjune.
Unlike Melville and Gonsalves, Charles was unrepresented.
Vic Puran, Melville's attorney, told the court that his client repairs vehicles and as a result it was normal for persons to take and leave their vehicles with him, which is where the car in question was found. Puran stressed that his client had nothing to do with the theft and asked that bail be granted in a reasonable sum on the grounds that he posed no risk of flight.
Adrian Thompson who appeared for Gonsalves told the court that the police held his client wrongfully only because he was found coming from the yard where the car in question was parked. According to Thompson, "My Worship, the police has no evidence that my client is involved in any robbery." The attorney then made an application for bail for his client in a reasonable sum.
According to Police Prosecutor Denise Griffith who did not object to bail, "The number one and number three defendants were apprehended as they were driving the motor vehicle to the residence of the number two defendant.
She further stated that the virtual complainant (VC) had parked his car on Carifesta Avenue in front of Coney Island and secured it before leaving but  upon his return, the car was discovered missing.
At this point attorney Puran interjected and told the court, "My Worship, no one has any proof that it was my client who had driven the car from Coney Island."
It was also alleged that on March 11 at Georgetown, the trio stole $427,000 in items from Fazila Baksh. According to Prosecutor Griffith, Baksh is the sister-in-law of Arjune and at the time of the incident, the items were left in the car. Griffith added that all the items were recovered.
The trio was placed on bail in the sum of $150,000 each for each charge and their matter was transferred to Court Three for May 8.
Around the Web