Within the last year, the Guyana Police Force has recorded a number of successes despite a shortage of 785 ranks, Commissioner of Police Henry Greene said yesterday.
Addressing those gathered for the opening ceremony of the Police Officers' Annual Conference at the Officers' Mess, Eve Leary, Greene said desk officers have had to split their time between the office and the road.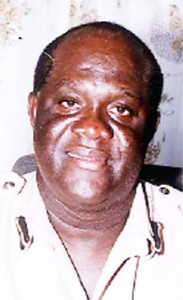 "Our office workers normally spend 50% of their time in offices and 50% of the time they spend on the streets."
He said this was because the force was 785 bodies short and "we have got to ensure that we can cover crime effectively by utilizing those who are usually in offices."
Crime Chief Seelall Persaud subsequently told reporters, that the shortage affects every department.
He pointed out that the force, which is about 2,700 strong at present, has been taking recruits but over the years it has never been fully staffed.
Greene told the gathering which included President Bharrat Jagdeo, ministers of the government, Director of Public Prosecutions Shalimar Ali-Hack and Attorney General Charles Ramson that every year officers would meet to review, analyze and project for the future of the force.
"We do house cleaning. We look for the leaks, the cracks, the rotten walls and floors; areas where our house has holes and we ensure that we put things in order," he said, adding that this is vital to the work of the force.
At no point in his opening remarks did the commissioner mention the recent guilty plea of Guyanese drug lord Roger Khan to, among other things, trafficking in cocaine in the US. The theme of the three-day conference, 'Consolidating our gains through reform, training, partnership and effective policing'  was framed so that "we could examine ourselves through those areas to see where we are and where we ought to be and to look at what is going to happen over the next year," he added.
Guidance
According to Greene, last April the conference was held under "fairly turbulent" circumstances caused by the criminal activity of the Rondell 'Fineman' Rawlins gang; the Lusignan massacre, then the Bartica incident and subsequently the Lindo Creek killings.
However he pointed out, that statements and words of encouragement from President Bharrat Jagdeo motivated the police.
"You challenged us very early in your speech last year and you made quite a number of telling statements, but we were met with vulnerability, the major one being crime and violence impacting on our economic situation," he stated.
Greene said that among the things Jagdeo mentioned on that occasion was the impact crime was having on society, in particular its contribution to a decrease in investors and the migration of human resources.
He told the gathering that the President had spoken of improving police operations while bemoaning their slow response to emergencies, lack of public support and cutting-edge technology.
He bemoaned their lack of coordination and collaboration with other law enforcement institutions as well as governance and accountability within the law enforcement sector.
The President had also spoken about a better functioning security architecture and priority areas of policing, the focus being Community Policing Groups, creation of hinterland policing and increasing public confidence.
"We proceeded on your charge and in our response you led the way initially because you caused a number of new legislation to be put in place," Greene said stressing that issues such as hijacking and piracy, plea bargaining , plea agreement, paper committals and paper discharges and audio visual evidence were dealt with.
The music and the loud noises in minibuses, cellular phones and the controversial issue of the markings on buses that were lewd and lawless were also dealt with, he noted.
"You led the way in pointing us towards defences and the bringing back of standards within the society and making law enforcement's work so much easier when we would have caught the criminal elements.  Your leadership we took and we responded with the joint services."
Improvements
Greene said that there had been an increase in special operations for officers at stations; they were trained to respond to certain criminal-type activity and they were given protective gear.
He said that during the past year they have dealt with the identification and arrest of many members of the 'Fineman' gang and support elements of the gang.
There has also been an increase in vehicular and foot patrols, particularly in Georgetown while there has been an improvement in intelligence gathering.
The commissioner stated that more manpower and equipment have been put into criminal intelligence and this has been rewarded with success.
In relation to corruption within the force, he added that during last year several officers were placed before the court. Twenty-four officers are before court for corruption and another 89 for other offences. "We do not intend to sit idly by and allow our ranks to under-perform, commit offences and turn a blind eye." He admitted that there are officers who are involved in corruption.
Within the past year, the force has managed to upgrade the crime intelligence unit with equipment, manpower and training and there has been greater collaboration with the DPP. A link was also developed with the Guyana Revenue Authority.
Under the citizen's security programme, an information unit and a computer training centre were established and since August last year 189 officers have been trained. Computerization at stations has been improved with the installation of systems.
Greene pointed out that some work is being done on the Dora training school and plans for the establishment of a modern forensic lab, are with a consulting firm.
Meanwhile, a consultancy firm from Britain which has already been identified will be coming to deal with strategic planning, finance, IT training, public relations, and audit.
"2008 had indeed been a watershed year for the force. It started badly but I think we managed to bring ourselves into a position where we could focus on so many other things we have to do," he added. He expressed confidence that the police will continue to make Guyana safe. Over 100 junior and senior officers from across the country are participating in the three-day activity, which concludes on Saturday.
Around the Web