President Bharrat Jagdeo yesterday said that Guyanese drug trafficker Shaheed Roger Khan would have to "face the music" having pleaded guilty to several offences in the US adding that he has never had any personal contact with Khan and does not know of anyone in the government who had.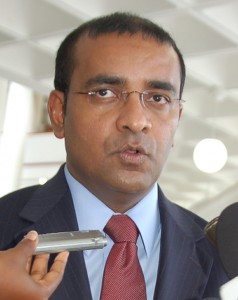 The President had little to say on Khan's surprise guilty plea on Monday in a US court to among other things conspiring to traffic in some 150 kilogrammes of cocaine, when asked about it after the opening of the police officers' conference at Eve Leary. In addition to the conspiracy to traffic in narcotics charge, Khan also pleaded guilty to witness tampering, a charge which arose out of the drug case and which he had faced along with his former lawyer Robert Simels and Simels's assistant Arianne Irving; and gun running, an offence he committed several years ago in the US, avoiding prosecution by fleeing to Guyana while out on bail. He is now awaiting sentencing following a probation report ordered by presiding Judge Dora Irizarry.
Asked about Khan's claims that he had worked closely with the government and law enforcement officials on crime fighting, Jagdeo said that Khan has said several things but he has not placed any weight on his utterances.
"I have said before, Khan said several things, he said that [former Commissioner of Police Winston] Felix was undermining the Government of Guyana too, he said he had taped conversations with people sharing information who are linked to drug dealers," the Head of State said.
"I have never put any store on what Roger Khan has said in the past or not said. I never decided whether he is guilty or not guilty, so if he pleads guilty he has to face the consequences that is clear."
On Tuesday, the day after Khan's guilty plea, Alliance For Change leader, Raphael Trotman, said there was enough evidence from the case to warrant a full-scale investigation into the drug kingpin's involvement with the government and the unsolved murders that piled up during his activities in Guyana.
"Did you ever have contact with Roger Khan?" the President was asked and he responded "No."
Two names, one a former government minister and the other a serving one had been mentioned in the transcript of a conversation Simels had with a US government confidential source (CS), as having met with Khan. But the president said he knew nothing of any such meetings.
And President Jagdeo once again briefly touched on being "vindicated" about retired army major David Clarke who is in a US jail on drug charges, but did not state why he felt vindicated or what information he had on Clarke that caused him to stop his promotion back in 2003.
"… my thing about vindication [as it relates to David Clarke], I have explained it to you [pointing to Editor of the Kaieteur News Adam Harris], already. I have explained to you about the Clarke matter. In Roger Khan's case if he admits to this then he should face the music, if he is a criminal," the President said.
Last week at a press conference Jagdeo had revealed that he had "confidential information" indicating that Clarke, who initially led army operations in Buxton after an upsurge in crime, had not been serving in the army's best interests.
Jagdeo had said then that he did not want to make the information public but he indicated that during Clarke's tour of duty in Buxton he had received information that the officer was involved in "various activities".
"The information was not very complimentary," the President told the media at the Office of the President, adding, "I said to the authorities there in the army that I did not think that he was serving our best interests," the Head of State had said.
Clarke is in the custody of New York law enforcement officials after being charged with conspiracy to import cocaine. He was expected to be one of the main witnesses for the US government in its prosecution of Khan.
Many questions have been raised over Jagdeo's utterances since Clarke was never dishonourably discharged from the army but had retired and was never court-martialled. Further, he was subsequently promoted from the rank of Captain to Major even though the president had initially blocked his promotion.
Very big
Crime Chief Seelall Persaud yesterday said that the force can only launch an investigation into Khan's activities if it is presented with information and evidence even though he did acknowledge that Khan was one of the drug players who the police believed was very big and who operated in Guyana "but he was only one of them".
When asked if the force would launch an investigation should Khan return to Guyana after he served his sentence, Persaud said he does not know what the future holds, adding that if the US presents Guyana with information on Khan's activities then "we would do an investigation.  "Or if anyone comes forward and tells us 'well listen, I know this happen'… yes we would do an investigation."
When further pressed on whether the police would take the initiative and launch an investigation based on Khan's guilty plea Persaud said: "What can you take? Describe this initiative for me please? We work on information if there is no information what can we work with?"
Persaud said he was only interested in information and transcripts that are presented to the force by United States officials and once they explain that crimes occurred in Guyana there would certainly be an investigation.
Attorney-General (AG) Charles Ramson would not offer a yes or no answer on whether, in the light of Khan's guilty plea, his assets in Guyana will or could be seized by the authorities.
"The time will come when the decisions are made and we will have to decide. Once it is within our jurisdiction the DPP [Director of Public Prosecutions] and I would do what we have to do," Ramson said while adding that steps will be taken to secure the best interest of Guyana
However, he did explain that the legal procedure, according to the Constitution of the country, is strict in nature with respect to criminal matters and the authority he as AG has, "I have the authority to advise the DPP and the DPP is the sole power, sole power, [that] makes decisions," and "I don't know why it is that the media corps has been led to believe that the Attorney General would cross that line."
Evidence
Meanwhile Commissioner of Police Henry Greene yesterday in the presence of President Jagdeo maintained that his force is in possession of the phone call-intercepting `spy' equipment that was seized from Khan back in 2003.
When asked what the force was going to do with the equipment and why it has not been used to track some of Khan's former associates, the commissioner who initially offered "no comment" said that it would be "used as evidence."
Last week, US officials had indicated that the same equipment, which was originally seized from Khan at Good Hope in 2003, was recovered from Simels's New York law offices.
Yesterday Jagdeo questioned why the press is not exploring the possibility that there could be two laptops, one which the force has and one which indeed was shipped to the US.
"How do we know it is the same equipment?" the President questioned while adding "…that point doesn't seem to be explored in the press, if this guy could have bought one equipment he could have bought several it could be true he had one which they carried overseas and it may be too that the police has one. What makes you think it is one he had?"
Stabroek News had been told that surveillance equipment was confiscated from Khan when he was arrested in 2002 and handed over to the government, but was then passed back to Khan at a later stage. Stabroek News understands that similar equipment was handed to the police under the guise that it was what was originally seized. At one time, the army had said that it had turned over the equipment to the police but the police later indicated that they did not know of its whereabouts.
Reports had indicated that the laptop was capable of intercepting and tracing telephone calls placed from a landline or a cellular phone and the software was reportedly only sold to governments. The then Home Affairs Minister Ronald Gajraj had said that the use of the instrument did not breach any of the laws of Guyana.
Last year Simels had said that Khan had received permission from the Guyana government to purchase the equipment from the Spy Shop in Fort Lauderdale, Florida, an allegation the government had denied.
Around the Web