A five-year-old child was discovered dead in bed by her mother early yesterday morning, while her younger sister is critically ill, hours after they were each given a dose of senna pod tea, followed by an anti-diarrheal drug sometime later.
Afiena Ramdeen of Murphy Street, Sisters Village, West Bank Demerara was pronounced dead on arrival at the West Demerara Regional Hospital (WDRH). Her three-year-old sister Aaliyah Ramdeen was admitted a patient in the Children's Ward at the Georgetown Public Hospital (GPH) where she remained in a critical condition up to press time last night.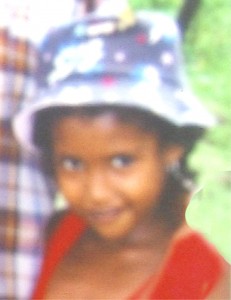 The mother of the girls, Bibi Rafzia Grovesnor was subsequently taken into police custody for questioning. A post-mortem examination (PME) is to be conducted on Afiena to determine the cause of death.
When this newspaper visited the Murphy Street home yesterday afternoon, Troy Ramdeen, the girls' father was in a state of shock and worry. The distressed man said that his reputed wife, Grovesnor, gave their children the senna at approximately 1 pm on Wednesday.
Troy explained to Stabroek News that his reputed wife had informed him on Wednesday that she would give the children senna – a natural laxative. When he returned home that day both his children, he said, appeared to be in good health and were experiencing the normal bowel movements induced by the senna.
According to Ramdeen, seven hours after the girls drank the senna, his reputed wife gave each of them one Lomotil to stop the induced diarrhea. However, immediately after taking the tablet, the father recalled, both children regurgitated it.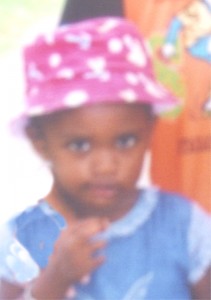 His older daughter Afiena, the man remembered, seemed to be more affected. Afiena complained of stomach pain and was very thirsty. However, every time she consumed some water she would only vomit, he said. When questioned about where their drinking water came from the father said he would fetch filtered water from the Guyana Sugar Corporation (GuySuCo) daily.
Grovesnor, according to him, made some "bush [herbal] tea" for the children hoping that it would make them feel better. The girls threw that up as well before going to bed.  Sometime around midnight, Ramdeen said, Grovesnor checked on Afiena because she was making "too much" noise.
Ramdeen told this newspaper that he was a cane farmer and his wife would get up around 3 am daily to cook. In the family's one-room house, the girls slept on the lone bed, their mother in a hammock and their father on the floor.
It was sometime before or after 3 am yesterday that Grovesnor leaned over from her hammock and touched her older daughter's foot only to realize that she felt "stiff", Ramdeen said, and she immediately alerted him.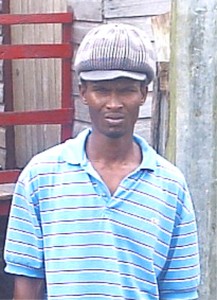 "After she touch Afiena foot and feel lil stiff she call out to me and tell me she dead," the father recounted. "I jump up and went and feel she. She de feeling lil stiff but I still seh leh we carry she to the hospital."
The man told this newspaper that he insisted their younger daughter be taken to the hospital as well. Ramdeen said he carried Afiena across his shoulder to a friend's house and the friend took them to WDRH.
However, by the time they arrived at WDRH it was too late for Afiena. Aaliyah was given oxygen, placed in an ambulance and rushed to GPH for immediate medical attention. Aaliyah was shivering sporadically and groaning when Stabroek News visited her in the GPH Children's Ward yesterday afternoon.
Relatives who were present told Stabroek News that they were informed by medical staff that the child was still at risk. The child's urine, they said, had a "reddish brownish" colour and it looked as if she was passing blood. Further, according to them, the doctor indicated that the child should not have been given senna followed by Lomotil.
The detoxifying
Stabroek News learnt from the girls' father that Grovesnor boiled a quantity of dried senna pods which she bought from a community shop. The pods were strained from the liquid, cooled and then given to the girls to drink.
According to florahealth.com, senna pods are obtained from the plant Cassia angustifolia or C. acutifoli which is used medicinally as a laxative for the purpose of cleansing the body. An overdose of senna pod tea can lead to painful stomach cramps and diarrhoea.
Grovesnor, according to her reputed husband, purchased the senna pods and Lomotil from two community shops. He said the police had questioned both shop owners yesterday.
The shop owner who sold Grovesnor the senna pods told this newspaper that the woman bought $40 worth which would have given her approximately 25 pods. Further, the sales attendant at the business place where she purchased the Lomotil said she had been sold six of the tablets.
According to the sales attendant, Grovesnor was advised to give each child half of a Lomotil. Troy told this newspaper that his wife boiled about 15 senna pods and the remainder and the four Lomotil were taken away by the police. Stabroek News learnt from a medical source that three or four senna pods would have been enough to brew the tea for children that age.
Using 15 pods, the source explained, would have resulted in too strong a brew for a five-year-old or younger child. Since senna stimulates the intestines, an overdose in children that age would result in dehydration and cause stomach pains.
Lomotil, the source explained, is not recommended for use along with a laxative, in this case senna. The brand of Lomotil used by Grovesnor, the source said, contains 0.025 milligrams (mg) of atropine sulphate and 2.5 mg diphenoxylate hydrochloride. Half a tablet is the dosage for children suffering from diarrhoea and overdose causes thirst and nausea.
But the children's father insisted that he did not believe senna pods and the tablet could have killed Afiena and left Aaliyah is such as "bad state". His deceased older daughter, he explained, had been a healthy child and the only health problem she had ever experienced was nearly three years ago. Back then, Ramdeen said, they were informed by a doctor that Afiena had swallowed a $10 coin and needed surgery which would cost about $200,000 to remove it.
"This doctor de tell we Afiena got a $10 coin in she belly and she had to get surgery but we never do it… She complain for stomach pain couple time after that," the man said. "Since then she na had to go back doctor. I ain't believe is senna pod and that tablet kill she."
Around the Web