Journalist, commentator and well-known personality Lorri Alexander died yesterday afternoon at the St Joseph Mercy Hospital after being in a coma for the past two weeks.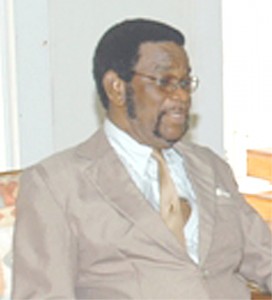 His wife of over 19 years, Paula Alexander, last evening told Stabroek News that her 73-year-old husband died very peacefully at around 2:15 pm. In recent years he was well known for the Miss African Heritage pageants he organised and the cultural event at Parliament to commemorate Emancipation.
His wife said that about a year ago he fell and hit his head and he never really recovered. For years he had been suffering from diabetes but late last year it really took a toll on him. Three months ago he suffered a stroke and it was exactly two weeks yesterday that he fell into a coma and was admitted to the hospital. He never regained consciousness.
Mrs Alexander described her husband, who was the father of a daughter from a previous relationship, as a strong person who had a big heart and one who never bore malice.
"He had a great sense of humour and even if you didn't like him you accepted him because of his personality," she said.  According to his wife, he  was very concerned about Guyana as he wanted the country to do well and he did his part to achieve this.
And while he was an "Africanist" and was well immersed in the African culture his wife said he was also interested in other cultures.
Speaking about her husband's professional accomplishment, Mrs Alexander said he was the former editor of The Star which is an evening newspaper in Jamaica and he was also a sports writer at the Jamaican Gleaner at one time. He spent many years in Jamaica where he attended university and had at one time owned a furniture business called Wicker Furniture and his company provided employment to disabled youths, among others.
And because of his contribution to youths and the culture in Jamaica former Jamaican Prime Minister Edward Seaga appointed him Director of Culture in that country and he was also at one time a board member of the School of Arts there. Alexander received some five national awards, including the Medal of Jamaica, in that country during the many years he spent there.
Years later on the invitation of the late President Desmond Hoyte, Alexander relocated his business to Guyana but he was forced to close it soon after following an accident in the United States where he spent a long time recovering.
In more recent times Alexander, who was the President of the National Emancipation Trust, organised the Miss African Heritage pageant but he was forced to discontinue it a few years ago because of the lack of sponsorship.  Last year during Carifesta he launched one of his four poetry books, the Moon Gazer, and his wife said he was very heartened when the book subsequently became part of the school curriculum.
In his early years before he left for Jamaica to study Alexander taught at Tutorial Secondary and he had crafted the motto and emblem of the school which still stands today.
Funeral arrangements for Alexander have not been finalized as yet as his relatives from overseas are set to travel to Guyana to pay their last respects.
Around the Web