An unidentified man was fatally shot last night in the city.
The man, who was found lying along Sussex Street, near the entrance to the 'Island', West La Penitence died while being treated for a gunshot wound to the head at the Georgetown Public Hospital. He was bleeding profusely from the head wound and police transported him to the hospital, where he later succumbed to the shot to the right side of his head. Up to press time there were no details about his identity and no one turned up at the hospital to claim his body.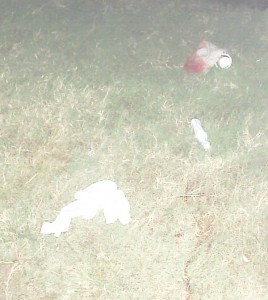 The shooting took place around 8 pm.
At the scene, no one was sure how the man was shot, although residents said a white car stopped briefly on the darkened road at the spot where the man was shot. Shortly after there was an explosion and the car drove off.  "I was in my house," a female resident said, "All I hear is a shot and by the time we run out we see a guy was lying there."
Stabroek News was told that the man was found lying just off the road by an elderly woman, who heard the gunshot as she was passing. The woman subsequently saw the man, who was bleeding profusely from the head wound. The woman alerted other residents and police were summoned to the area. The patrol vehicle that turned up rushed the man to the hospital.
Residents said they did not know who the man was and insisted he was not from the area. There was speculation that the man might have been put out of the car and shot or possibly shot in the car and pushed out.
More than an hour after the shooting, there was a bloody hat and a rag near the spot where the man was found. There was also a blood soaked patch of grass where his head rested, while a trail of blood leading to the road indicated where the police had moved him.
Around the Web