An AWOL soldier was picked up yesterday by men claiming to be soldiers and has since disappeared prompting concerns by his family that he could be in danger and a call for the authorities to move quickly on the case.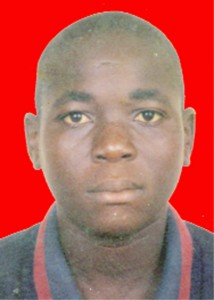 Desmond Semple Jnr, a former cadet officer of the Guyana Defence Force who absconded two years ago, was picked up by three men in civilian clothing around 10 am at his Plaisance, East Coast Demerara workplace.  The army's public relations office was last night unable to shed any light on this matter when contacted by Stabroek News.
The men instructed Semple to go with them saying that he was needed at Camp Ayanganna to clear his name, according to reports. But checks by the family at the army base in the city have come up empty and a frantic search to locate him continues.
Up to press time last night relatives were combing familiar hang-out spots and checking hospitals for Semple, 19 years, of Ogle, East Coast Demerara. A missing persons report was filed at the Sparendaam Police Station earlier yesterday.
A distressed Desmond Semple Snr told Stabroek News last night that he is worried and "running out of time to find my son". He witnessed the men taking his son away in a white car bearing no marking of the GDF and had protested, but the men ignored him insisting that the young man was needed for army business.
He said that the men showed no identification and merely mouthed three names quickly when pressed on who they were.
According to him, his son was calm throughout the whole ordeal from the time the men picked him up at work to when they took him from his home a short distance away.
The elder Semple explained that the men took his son home and forced him to search for any army gear he had with him. He found nothing after searching for a while.
The father, also a former soldier, was alerted of the commotion at the home which is a stone's throw from where he resides. He turned up at the house to find the men taking his son away.
Semple said that he went to Camp Ayanganna shortly after his son was taken, but failed to locate him or anyone who knew about an army operation to round up soldiers who had absconded.  He made numerous enquiries and scanned the compound without any luck.
According to him, the story about his son being rounded up came over as strange and no one could provide any answers.
"Nobody had a clue what I was talking about and I was very clear about what happened. I explained how the incident happened, even described the men and the car but nothing", the father lamented.
Semple said he made checks at the army base at Timehri and even called a few army friends, but also came up empty. According to him, things are not looking good.
The father said his son would openly discuss how he had absconded from the army to anyone who would listen. He said that the young man suffered a severe beating while in training and was hospitalized for over a month, vowing never to return to the GDF when he recovered.
He added that his son stayed away from the army since 2007 and the issue of his absconding never came up until yesterday.
Around the Web