Tempers flared yesterday morning as several persons who turned up at the Marriage Section of the General Registrar's Office to tie the knot, were forced to wait hours before an official was there to solemnize their nuptials.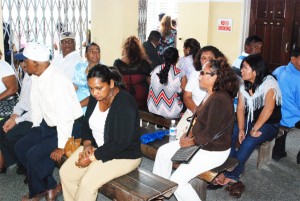 When Stabroek News visited the office yesterday just at about 10:30 a.m. a group of visibly upset persons was awaiting the arrival of the Registrar General Greta McDonald.
Some of these persons said that they had been waiting since 8 a.m. and had been told by officials in the department that they could not get married until the Registrar General had arrived.
One man said he had travelled with his fiancé and his relatives from Berbice to get married and was angry at how he was being treated.
He said that he and his family had left his home since 3 a.m.
The crowd was later informed that the official was stalled in traffic along the East Bank. Upon enquiry this newspaper was given a similar excuse for the late arrival of the Registrar General.
The first ODI between England and the West Indies was held yesterday at the Providence Stadium, and this caused a build up of traffic along the East Bank.
However, at about 11 a.m. the wedding ceremonies began following the arrival of a Justice of the Peace.
Around the Web