Aaliyah Ramdeen, the three-year-old who was hospitalized after drinking senna pod tea and an anti-diarrheal tablet on Wednesday, died early yesterday morning at the Georgetown Public Hospital (GPH).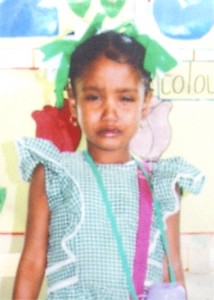 The child died one day after her five-year-old sister, Afiena Ramdeen, was discovered dead in bed by their mother sometime around 3 am on Thursday. Troy Ramdeen, the girls' father, had told this newspaper that his reputed wife Bibi Rafzia Grovesnor in an attempt to 'clean out' the girls gave both a dose of senna – a natural laxative – around 1 pm on Wednesday followed by one Lomotil about seven hours later.
Grovesnor, who was taken into police custody on Thursday morning after she reported the incident to police, remains there pending the post-mortem examination (PME) results. The PME, Ramdeen said, will be conducted on Monday by Dr Nehaul Singh at GPHC.
Police in a statement issued yesterday afternoon confirmed that the children's mother was still in their custody as they await PME the results.
Ramdeen told Stabroek News yesterday that he was informed of his younger daughter's death at 7 am. Aaliyah had been admitted a patient at the GPH Children's Ward yesterday and was in a critical condition.
"The other one dead, you know," Ramdeen said in a shocked voice. "Early this morning it happen… I thought God woulda at least leave she."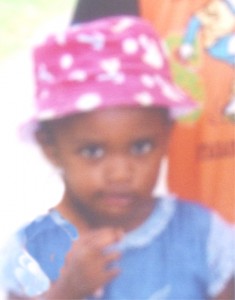 Meanwhile, the GPH in a press release issued yesterday stated that Aaliyah died in the Intensive Care Unit (ICU) at 3 am. According to the release, the child was taken to the hospital on Thursday with "complications from drinking senna pod tea and Lomotil tablets". The child was initially admitted to the Paediatric Surgical Ward but transferred to the ICU around 01:15 am yesterday, where she later succumbed.
Grovesnor had purchased a quantity of dried senna pods to detoxify her children. Ramdeen told this newspaper yesterday morning that Grovesnor had left her job as a security guard to be a full-time mother.  Ramdeen said his reputed wife was a good and caring mother who loved her daughters unconditionally. The man expressed frustration that Grovesnor was still in police custody. He said the police refused to let him see her yesterday.
"I concerned fuh she because we get message to she that Aaliyah dead this morning [yesterday]," Ramdeen said. "I drop lil food fuh she but I ain't even know if she eating."
He still does not believe that an overdose of senna pods and Lomotil caused the death of his daughters. He said his wife only meant well when she gave their children the medicines. He and Grovesnor both grew up on senna, the man said, and he has never heard of such a thing happening.
Senna pods
and Lomotil
Senna pods and Lomotil are both over the counter (OTC) drugs in Guyana. They are sold widely from small licensed village shops to large pharmacies. A popular city pharmacy told this newspaper yesterday afternoon that advice was given to people about the use of senna if they asked.
"Senna pod is sold in small quantities to individuals," the pharmacy spokesperson said. "It is a laxative commonly used by people so its use is well known but we give advice to those people who would request it from time to time."
With regard to the sale of Lomotil, the spokesperson said they would always ask the customer the age of the person the tablet was intended for and would inform them of the appropriate dosage.
Several shopkeepers from various locations told this newspaper that they generally did not provide information to customers on the use of senna pods but would inform them of the recommended dosage for Lomotil. According to them, the use of senna was well known. They all expressed surprise when informed that an overdose senna pods may have caused the death of Afiena and Aaliyah Ramdeen.
Minister within the Ministry of Health, Dr Bheri Ramsaran, told this newspaper that Lomotil "usually is not recommended for use by the extremes of life [that is the very young and old]". This statement, he said, was based on data available on the British National Formulary and his experience as a medical practitioner.
Lomotil which contains 0.025 milligrams (mg) of atropine sulphate and 2.5 mg diphenoxylate hydrochloride is a prescription drug in Canada and the US. When questioned about why it was an OTC drug in Guyana Ramsaran did not respond. He directed Stabroek News to Chief Medical Officer (CMO) Dr Shamdeo Persaud who, he said, would be in a better position to answer this question.
Several efforts made to contact the CMO and the relevant officials at the Food and Drug Department of the Health Ministry yesterday were futile. However, this newspaper learnt from a source within the Ministry of Health that Lomotil should be a prescription drug. Minister of Health, Leslie Ramsammy was also unavailable for comment yesterday.
According to flora-health.com, senna pods are obtained from the plant Cassia angustifolia or C. acutifoli which is used medicinally as a laxative for the purpose of cleansing the body. An overdose of senna pod tea can lead to painful stomach cramps and diarrhoea.
Stabroek News learnt from Ramdeen on Thursday that his reputed wife boiled about 15 senna pods. A medical source told this newspaper that three or four senna pods would have been enough to brew the tea for children that age.
Using 15 pods, the source had explained, would have resulted in too strong a brew for a five-year-old or younger child. Since senna stimulates the intestines, an overdose in children that age would result in dehydration and cause stomach pains.
Lomotil, according to the medical source, is not recommended for use along with a laxative, in this case senna.
Around the Web