(Barbados Nation) The man who stabbed his wife 21 times after suffering years of "horns" and abuse will spend seven years in jail.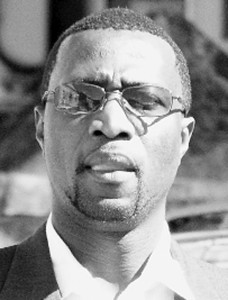 Marvin Harmon, 35, took the news stoically, a far cry from his tearful demeanour on his last two court appearances when he had to listen to Director of Public Prosecu-tions Charles Leacock, QC, relate the facts and his attorney Desmond Sands mitigate.
The Guyanese, who was working here illegally and who was staying at Apartment 9, Stadium Road, Bush Hall, St Michael, admitted unlawfully killing his wife Roseanna on October 13, 2007. He was originally charged with murdering her, but denied that offence. He returned yesterday to be sentenced.
"Roseanna Harmon died on October 13, 2007, because of your actions and at your hand and the loss of a life is a serious offence," Justice Kaye Goodridge told Harmon.
"And there is no doubt in my mind, having regard to the provisions of the Penal System Reform Act, that a custodial sentence is the only sentence which can be imposed in this case."
The only question, the judge added, was the length of that sentence.
"The maximum sentence for the offence to which you entered a guilty plea is life in prison," she informed the manslayer.
"I started out by arriving at a range of 12 years as the starting point for this type of offence. Having made that determination, I next considered the aggravating and mitigating factors in your case," the judge said.
Those aggravating factors were that Harmon stabbed his wife 21 times and then threw hot oil on her face.
However, Justice Goodridge said the mitigating factors, including the lack of premeditation in the attack, many instances of provocation, Harmon's guilty plea, his clean record and his genuine remorse, far outweighed the aggravating factors.
"My assessment of you is that you truly regret the situation in which you found yourself, a situation which was caused, perhaps, by your unconditional love for your wife," she said.
"When I take all of the above into account, weighing the various factors, I have come to the view that I should impose a sentence of seven years on you. I consider that appropriate to your case," the judge told him.
On Thursday, the court had heard, from the Director of Public Prosecutions, who had appeared with Senior Crown Counsel Roy Hurley, that there was "ample evidence" which the prosecution could not rebut, of provocation and a history of a third party transaction.
"If I could I would ask him why he would have remained in the face of such adversity. Why stay in that situation and with the way it was going, this [incident] was inevitable," said Leacock, adding that Harmon was a man who showed great restraint in the face of great provocation.
"In my view, I think [the sentence] should be around seven years in the face of such provocation. I do think this is a case where [the court] might want to exercise leniency," said Leacock.
Attorney Desmond Sands, who mitigated on Harmon's behalf, said there was never any evidence or reports of domestic violence.
"He had unconditional love for his wife from the beginning," Sands said. "When he discovered she was in a relationship with another man, he spoke to her. He didn't hit her, he didn't quarrel; he just asked her to keep the relationship going."
But instead, said Sands, Harmon had to suffer the indignity and embarrassment of being dragged behind a car driven by his wife's lover while he held on and pleaded for her to come back.
"There was another incident, on Father's Day, when he saw his wife in [the man's] car on Fairchild Street. He was saying, 'gimme my wife'. And when the car sped off, he ran behind it, saying, 'Bring back my wife, bring back my wife', much to the amusement of onlookers," said Sands.
The attorney further said that on the day of the killing, Harmon's wife told him: "Today is going to be a black day" and "if you want to done it, we gine done it. I in the mood," before she attacked him with a knife.
Sands also pointed to Harmon's clean character, his early guilty plea, the spontaneity of his actions and his genuine remorse. He said a good starting point would be "six years or less and with any reduction for the manner in which he came to court".
Around the Web