The boys of the St. John's Bosco Home were treated to a bit of cricketing excitement at the first Digicel One Day International (ODI) last Friday.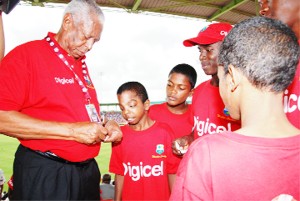 Digicel invited the boys to the ODI, a press release issued by the company on Saturday said, and gave many of them the opportunity to attend a cricket match for the first time.  "…we know that the boys really love cricket so we wanted them to get the real cricket experience," Digicel Head of Marketing Donovan White said.
When 13-year-old Cliffon Park learnt that he would be attending the ODI compliments of Digicel he was delighted.
The child expressed thanks to the company and stated that the game "got even more exciting when Lance Gibbs came to mingle with us."
Around the Web