A computer, complete with accessories, was recently given to the Pomeroon Women's Agro-processors Association (PWAA) by the Ministry of Agriculture.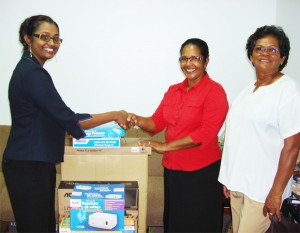 Minister of Agriculture Robert Persaud, a release from the ministry said, had promised the association the computer during the commissioning of the Charity Agro-processing facility.
The Deputy Permanent Secretary of the Ministry of Agriculture's Finance Department, Prema Ramanah-Roopnarine, urged the association at the handing over ceremony to use the computer to benefit themselves and the farmers of Charity/Pomeroon.
Vilma Da Silva, president of the PWAA, said that the Ministry's assistance will compliment the ongoing expansion needs of the facility.
The Agriculture Ministry, according to the release, and other support agencies will continue to work with the PWAA and farmers to further develop agro-processing activities in Charity/Pomeroon.
Around the Web