Gunfire erupted on Main Street early yesterday morning when two men in a heated argument drew their weapons and shot at each other resulting in three persons suffering wounds.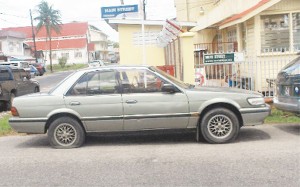 Police are investigating and charges are to be laid.
Stabroek News understands that the shooting erupted following an argument after one of the men stepped on the other's foot in the New Courtyard Restaurant and Bar on Main Street. The bullet-riddled fracas ended on the roadway with about 12 shots being fired at around 3:55 am.
Forty-five-year-old Joseph Medford, a vendor outside the night spot, was shot in the left thigh and was treated at the Georgetown Public Hospital (GPHC) while 35-year-old Erasto Roberts of 554 South Ruimveldt was admitted to the same institution suffering from a gunshot wound to his chest. A police release last evening said that Jamal Douglas, 22, of Turkeyen, East Coast Demerara was also shot in the left instep.
The police said during their investigation a search was conducted on a motor car and an unlicensed .32 Taurus pistol with five matching rounds was found. A 9mm spent shell and a .32 spent shell were found on the scene by the police.
Unconfirmed reports indicated that another man who was also shot during the incident sought treatment at a private hospital. A police source told Stabroek News that they are in search of this man as he discharged himself after being treated at the private institution.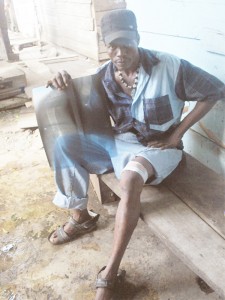 When Stabroek News visited the scene of shooting, at the corner of Main and Hope streets in front of the Guyana Revenue Authority (GRA) office, a car, PKK 1651, with a flat tyre and what appeared to be damage caused by a bullet to the right side front door was still parked there.
An official from the nightspot told Stabroek News that the car belonged to someone who was involved in the shooting. According to the official an argument started in the nightclub and efforts by employees to calm the parties proved futile and the man who appeared to be the aggressor was asked to leave.
The official said that it is not clear when the other patron, who is a regular at the nightspot, followed the other man and they only knew something was wrong when they heard rapid gunfire. Residents in the nearby Tiger Bay community reported that they were awakened by the gunshots.
"It had to be that somebody went to their vehicle and take out a gun because we are very strict here, we don't allow anyone in here with a weapon even if it is an officer of the law. Because, when people come in here and they drink you can never tell what they would do under the influence," the official said.
Roberts told this newspaper at the GPHC that he was on his way home when he heard gunshots. "I run to me car and even forget my small cousin that was with me and then I feel a burning sensation to me chest and I pass out I don't even know how I end up here," the man said as he grimaced in pain. He was sitting on the hospital bed at the time and a policeman was standing a short distance from him.
Asked if he was involved in an argument with anyone the man said: "I had no argument with anyone maybe there was an argument going on but I don't know anything about it I was just going home and trying to get to my vehicle," Roberts said, even as he related that the police had since taken his vehicle into custody.
When this newspaper visited Medford at his Tiger Bay home yesterday the man was in obvious pain. He said that the bullet was still lodged in his thigh and he was told to return to the institution today. The man said he usually sells energy drinks among other items. Because there was a crowd outside of the nightspot he decided to stick around with the hope of picking up a few sales.
He told Stabroek News that shortly before the shooting he saw two men arguing and within minutes one of them drew a weapon and fired at the other.
"The other run to the corner and get he weapon and run back firing and I was trying to run fuh cover but I still get shoot and the police tek me to the hospital," the man said. He could not say from whose gun the bullet that hit him emanated since both men were firing wildly and he was not even aware that another person was admitted with a gunshot wound from the same incident as he was in tremendous pain. The man lamented that the incident would put him in serious financial distress because his injury would prevent him from walking and selling for a few weeks. He said he has no one to help him since he lives alone and his only son died at the age of 21 a year ago.
The hospital has given him pain tablets and he was told that he would have to join a clinic at the institution for the bullet to be removed.
Meanwhile, the official at the New Courtyard bemoaned the shooting stating that such an incident does nothing good for his business. "About two years ago my very good friend died right out here when there was another shooting," the man said.
The friend he referred to is Kenrick Nero, a 58-year-old hospital porter who was shot outside the night spot in September of 2006 after another blazing row had erupted within the bar.
Around the Web