A post mortem examination performed yesterday on the body of murdered Sheriff Taxi Service driver Keith Bowen revealed that he died from haemorrhage due to a gunshot wound to his head.
The police are still looking for leads in the case and are yet to make an arrest.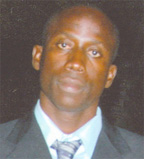 Bowen, a resident of First Street, Vigilance, East Coast Demerara was found near the entrance to the `Island' at West La Penitence last Thursday bleeding profusely from a gunshot wound.
Residents had reported that a white car stopped briefly on the dark road and an explosion was heard shortly after. The car then drove off.
An elderly woman passing near the area saw Bowen lying just off the road bleeding. She raised an alarm.
Police were called to the scene and they took the still breathing man to the Georgetown Hospital where he later died.
The man was listed as unidentified that night but when his dark grey car was found abandoned on Princes Street in the vicinity of Lombard Street the following morning with blood on the driver's seat, colleagues and relatives turned up at the Georgetown Hospital. He was positively identified.
The last contact that Bowen had with the service was around 8.30 am on the tragic day when he made his last drop and later said that his car was overheating.
No one knew about his whereabouts until last Friday morning when he was identified at the mortuary.
Around the Web