Chairman of the Ethnic Relations Commission (ERC) Bishop Juan Edghill says that International Day for the Elimination of Racial Discrimination presented an opportunity to focus on the importance of the fight against racism and all forms of intolerance.
The ERC chairman declared on Friday that "We have to learn to avert future tragedies attributable to racial discrimination and put into effect a 'culture of prevention' rather than a 'culture of reaction' in our homes, schools, communities and workplaces, the Government Information Agency (GINA) reported.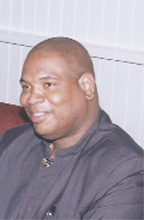 In a message marking the United Nations observation of International Day for the Elimination of Racial Discrimination on Friday, Bishop Edghill called on Guyanese to pledge to strengthen efforts to eradicate racial discrimination and to recognize the legitimate right of every human being to live in peace, equality and dignity.
In a message to commemorate the day, the ERC chairman also noted  that even though the world has changed significantly and progress has been made in the fight against racism, it is still a major problem in societies large and small. This, he said, was undermining global efforts for peace, justice and development.
According to GINA, he contended that it is the responsibility of every citizen to educate people on how to address racism and build relationships of mutual respect, tolerance and understanding, regardless of cultural differences since racial discrimination not only hurts its victims but also damages the society which harbours it.
He also advocated that in order to combat the violence and oppression caused by racial discrimination people need to instill values of tolerance and respect in  their homes and  develop courses in universities to deal with racial discrimination in education, training and employment. They should also explore ways in which community organisations can work together to promote positive race relations and object at all times to racial jokes and insults, Edghill stated in his message.
He recalled too that Friday's  observance of the International Day for the Elimination of Racial Discrimination marked 49 years since the brutal killings of 69 persons who were peacefully protesting against apartheid laws in South Africa.
Six years later on March 21, 1966  the United Nations General Assembly called on the international community to redouble its efforts to eliminate all forms of racial discrimination and established a day for this observance.
Guyana being a signatory to the Inter-national Convention on the Elimination of All Forms of Racial Discrimination became a party under the Convention to "condemn racial discrimination and undertake to pursue a policy of eliminating racial discrimination in all its forms and promoting understanding among races".
The Constitution of Guyana provides for the conservation of the rights of every individual and their protection against racial discrimination and the Act to establish the ERC was passed in 2000 and the Commissioner appointed in keeping with the provisions in the Act.
Around the Web