Chief Executive (CE) of the Guyana Water Inc (GWI) Karan Singh has been sent on leave for at least three weeks for the board of the utility to examine allegations about mismanagement in the water sector.
Yesterday following concerns raised in the public about procurement and other matters, the GWI board issued a brief statement.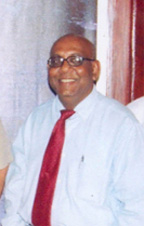 It said "the Board of Directors of Guyana Water Inc. has moved to examine in greater detail allegations brought to its attention about mismanagement in the water sector.
"The Board met with the CE, informed him about the situation and agreed that his absence from work would facilitate the speedy completion of the board's investigations".
Sources say that in addition to Singh, five other GWI employees have also been sent off on leave to facilitate the probe. The move came in the wake of reports that another senior GWI official connected to procurement was sent home to facilitate a probe in relation to kickbacks.
Singh yesterday told Stabroek News that he had only returned to work from vacation on Monday and was told at a board meeting that he should proceed on leave to facilitate the probe. He said he was quite surprised at this and did not believe this was warranted.
The move by the GWI board was in response to a report prepared by the internal auditor which said that Singh had overreached his authority and that procurement rules were breached. Singh said he was told that his being sent on leave was just procedural and he was not being accused of anything else.
Sources say his being sent on leave has the blessing of the Minister of Housing and Water, Irfaan Ali. It is the latest twist in what has been a troubled post for Singh. While at the previous Guyana Water Authority and then at GWI he had also encountered troubled waters with Ministers Harripersaud Nokta and Shaik Baksh.
Singh had departed GWI to pave the way for a five-year UK-funded management contract for the utility. This contract with Severn Trent was ended early in the fifth year and Singh who had been in charge of the Local Organising Committee for the Cricket World Cup was later chosen again for the post of GWI head.
This development prompted an unusual statement on September 25, 2007 from three donor agencies to the water sector: the Inter-American Development Bank, the UK's Department for International Develop-ment and the World Bank saying "Although we welcome the move to appoint a Managing Director for GWI, we neither endorsed nor contested this candidate, as these matters are the responsibility of the Board of GWI and the Government of Guyana".
Around the Web