A Lamaha Street resident died yesterday afternoon as he attempted to cross a section of the East Coast highway.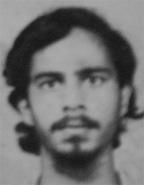 Dead is 44-year old Motiram Persaud of 169 Lamaha Street, Newtown, Kitty.
According to information received from the Police, the accident occurred at Oleander Gardens at about 12:30 p.m. Police investigations so far reveal that  the driver of the car was proceeding along the northern carriage  of the road when Persaud apparently attempted to cross and was struck down by the car.
When Stabroek News spoke to the driver Andrew Williams he told this newspaper that he was heading east along the highway in his car PKK 9001 at a reasonable speed, when Persaud, who was standing on the traffic island, suddenly made a dash as his car was passing. He said all he felt was the impact of the man on his vehicle and was unable to say exactly what transpired after.
Persaud is believed to have died shortly after the impact and his body was on the road for over half an hour before being taken to the Georgetown Public Hospital.  The man was pronounced dead on arrival at the hospital.
From the dents on the car, it appears as if the man's body first hit the side of the vehicle before his head smashed into the windscreen of the car.
Meanwhile, when Stabroek News spoke to relatives of the deceased man, they said that he would go walking in that area on a daily basis- normally early in the mornings and in the evenings.  The family members said that the man would work as a cleaner and help in the upkeep of the Hollywood/Bollywood night club on Lamaha Street. This club is managed by the dead man's relatives.  Persaud was not married and had no children.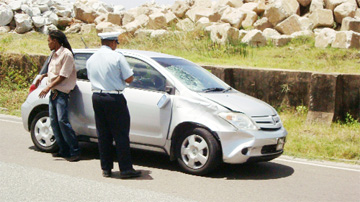 The driver is currently in custody assisting the police as they continue their investigations.
The car that was involved in the accident
Around the Web