Eighteen-year-old Trevor Baird made a desperate attempt to escape threats and to seek a better life but ended up paying the ultimate price when he was gunned down by a fellow countryman in French Guiana on Saturday.
When Stabroek News visited Leopold Street, Werk-en-Rust yesterday, where Baird popularly known as `Rankin' had resided up until December last year, the mood was sombre. Several black flags were nailed to power poles close to his Lot 83 address.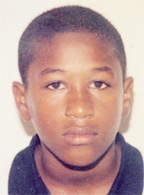 Initial information out of the French territory was that the investigators were reluctant to reveal the identity of the dead youth or the circumstances surrounding the incident, only saying that the persons involved were known. Sources in Cayenne give the man's call name as `Beenie' saying that he was 17 years old and was shot during a confrontation with four Guyanese men in front of a Creole restaurant on Avenue Voltaire.
However, yesterday several persons close to Baird while stressing that they are unaware of the details said he is not known as `Beenie' and those in custody may have given the investigators a wrong name. Those being questioned are said to be friends of Baird and residents of the Werk-en-Rust area. He and the others had actually gone to confront another man, who armed himself with a gun.
This newspaper understands that the three young men who were held on Monday in connection with the incident are still in custody while the shooter is still at large. Reports are that the man has returned to Guyana.
Speaking to this newspaper yesterday, the dead man's uncle Neville Boyce said that the youth's mother, grandmother and sister left for French Guiana early yesterday morning and they plan to bury him there since it would be too expensive to bring the body back home.
According to him, someone called relatives on Saturday night informing them of the incident but no other information was revealed.
He told this newspaper that the youth travelled to Cayenne with friends several months ago without informing his family and relatives. However when they heard that he was there, his mother contacted some friends and they helped him to get a job on a garbage truck, Boyce added.
Prior to leaving Guyana, Baird used to assist his 58-year-old grandmother, who had raised him, in her food-selling business and was also employed at a nearby bakery.
Boyce described his nephew as a quiet boy "who don't pick story with nobody".
According to him on receiving the news, the grandmother was very distraught especially since he left without telling her anything.
Asked why Baird would have just left without a word to anyone, Boyce informed this newspaper that the lad was being threatened and another reason could have been that he wanted to "help out" his grandmother.
Stabroek News was subsequently told that the youth was embroiled in some money issues.
The uncle said that the circumstances under which the teenager died, is hurting him and like others in the area he is in shock.
Meanwhile, one of his friends told this newspaper yesterday that Baird played football and was scheduled to return home this week to play in an Under-20 Football league and to celebrate his birthday which would have been on April 4.
According to the man, he and others were at a football game on Saturday when a friend in Cayenne called telling them of the shooting. He said that they did not believe the caller and disconnected the call. However the man called back saying that he was standing over the body which had several bullet wounds.
Revenge killing
A source in Cayenne told Stabroek News yesterday that Baird and three friends had beaten the shooter very badly several days ago because of a rumour a woman had spread. It is unclear what the rumour was about.
The injured man subsequently went to the hospital for medical attention and a report was filed with the police but nothing came out of the matter.
On Saturday night between 9 and 10, the source said, the four friends (Baird included) went to a yard where the beaten man was having a bath and washing. The yard is not far from the restaurant, in front of which Baird took his last breath.
During a confrontation, the beaten man, armed himself with a gun and chased the quartet discharging a number of rounds at them.
According to the source, bullets hit Baird in his neck and chest while a third entered a nearby bakery through an open window.
It is unclear how the police managed to arrest the three friends.
One of the suspects, said to be an 18-year-old miner, reportedly told investigators that it was a revenge killing that stemmed from a recent fight over a woman.
Many Guyanese reside illegally in the French territory and are known to commit petty crimes.
Baird is the third Guyanese to have been gunned down under questionable circumstances in the last six months.
On November 22, Joseph `Obrien' Mc Aulay of Victoria, East Coast Demerara was a victim of a drive-by shooting. He was shot in the chest and subsequently died at the Cayenne hospital. Two persons were held but it is unclear if charges were laid.
Weeks earlier, 24-year-old Troy James was killed and the police were convinced that his older brother had committed the act. According to reports the two had a falling out that sparked the fatal shooting which occurred in Remire-Montjoly, a town in the suburb of Cayenne. It is believed that the suspect returned to Guyana through Suriname shortly after the incident. To date he has not been apprehended.
Around the Web