–shooter still at large
The three Guyanese, who were held following the gunning down of 18-year-old Trevor Baird in Cayenne, French Guiana on Saturday, were released by investigators on Wednesday but the shooter remains at large.
The trio and Baird, according to reports, had been involved in a heated confrontation with the shooter minutes before the incident which occurred in front of a restaurant on Avenue Voltaire. It is believed that following the incident the shooter returned to Guyana.
The dead man's relatives are currently in Cayenne finalizing arrangements for his burial, which is to take place there.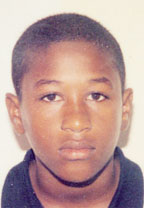 Baird, known as `Rankin' had lived at Lot 83 Leopold Street, Werk-en-Rust up until December last year when he reportedly fled to Cayenne after receiving threats.
He was shot twice and died before receiving medical attention.  A source in Cayenne had told Stabroek News that the teen and three friends had beaten the shooter very badly several days prior to the incident because of a rumour a woman had spread.
The injured man subsequently went to the hospital for medical attention and a report was filed with the police but nothing came out of the matter.
On Saturday night between 9 and 10, the source said, the four friends (Baird included) went to a yard where the beaten man was having a bath and washing. The yard is not far from the restaurant, in front of which Baird took his last breath.
During a confrontation, the beaten man armed himself with a gun and chased the quartet discharging a number of rounds at them.
According to the source, bullets hit Baird in his neck and chest while a third entered a nearby bakery through an open window.
It is unclear how the police managed to arrest the three friends.
One of Baird's three friends, said to be an 18-year-old miner, reportedly told investigators that it was a revenge killing that stemmed from a recent fight over a woman.
The French police had refused to divulge the identity of the man or information surrounding the shooting, only saying that the persons involved were known to them.
Around the Web