People know each other well on the Pomeroon River. Travelling mostly in boats, some of the children even paddle to school, almost everyone waves to each other in passing.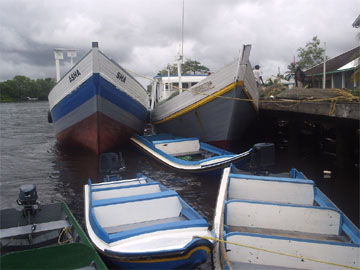 But under the placid surface, much like the garbage floating on the dark water of the river, there lies a sinister undercurrent. Death. Unsolved killings, mysterious and brutal, linger. The key questions of who did it and why remain unanswered.
Many feel each loss and reminisce freely. When Judith De Agrella's husband Romeo and her eldest son, Clint did not return from a business trip to Venezuela as scheduled last week, she thought that they had encountered engine trouble. No thought of death entered her mind. She and her husband were together for the last twenty years, married for the last six and Clint, 20, was the eldest of five. She usually worried about him accompanying his father on his trips to purchase hassar from Venezuela but Clint insisted that he did not want his dad to be alone. Father and son were the family's breadwinners and they were together last weekend when they were brutally shot to death. They sustained multiple gunshot injuries, the police said.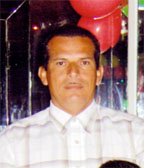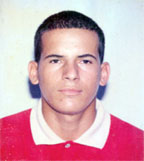 Like lots of the people residing along the banks of the Pomeroon River, the De Agrellas of Grant Strong Hope live in a simple wooden house. They did farming and later acquired a dredge. Just about six years ago, Romeo began to carry dried fish to Venezuela for sale and return to Georgetown with hassar for export. He liked fish, Judith said in an interview with Stabroek News at Grant Strong Hope yesterday, and he had his own fish pond in the yard.
On March 9, father and son left Guyana for Venezuela where they normally spend two to three weeks before returning. Last Wednesday, Romeo called his wife and said he would be returning soon. He called again the following day but she was not at home and on Friday, she received a call informing her that they had left at 5 am and she must expect them. Normally, they would have been there at about 1 pm and about 6 pm on Friday, she got worried but did not think too much about it as she was not sure whether they had indeed left.
The next day, Saturday, she received a call from someone in the Venezuelan city where Romeo traded; asking whether he had arrived home and she questioned whether he had indeed left. That day would have been his 41st birthday and she became increasingly worried. Later that day, the family was informed that a passing passenger boat had seen an overturned boat floating in the sea. Her son relayed the message to her and they wondered if it was their boat. "I coulda swear that they had motor problem. I had no thought of death", she said.
Ryan Gonsalves, a relative was dispatched to check. On Sunday he left and about mid-day, saw the boat on the shore close to the Waini River and identified it. A man there, Gonsalves said, told him that they had pulled it out of the water. He returned and reported the matter to the Charity Police Station and returned to the area on Monday.
Sunday also, Judith left to go to the area and commenced searching at Waini but saw nothing and spent the night there, returning home the next day. Several other search parties had been dispatched. Just as she arrived home, she said, a call came informing her that Clint's body had been found. Several minutes later, another call came stating that her husband's body was found, three miles away from her son's. The bodies were found in the vicinity of Iron Punt, North West District and were later that afternoon brought to Charity. The police came for her and took her to the Charity Police station to give a statement and questioned her about what business her husband was in, she related.
She was transferred to the Anna Regina Police station where she was kept overnight and later released on Tuesday.  Gonsalves too was detained by the police on Monday and released on Wednesday. He said that in taking a statement from him, the policeman had made a mistake regarding whether he had seen an engine on the boat. He said that he had never uttered any such thing to the police and when his statement was recorded, he was never given it to read nor was it read to him. "I feel real bad because me ain't know what they lock me up for", he stated. The police had said that the boat bore bullet holes and the outboard engine was missing and Crime Chief, Seelall Persaud had said that what appeared to be shrapnel was discovered in the boat.
Gonsalves was fingerprinted and released late Wednesday. Relatives were upset that he had been described as a suspect in newspaper reports and also that he had been detained. "I believe that the police should search for the people them (the killers) instead of holding the wrong person in custody", said Judith adding though that the Morawhanna police were very helpful.
The woman said that her husband was a quiet person and she knew of no trouble that he had with anyone and he "lived good" with the neighbours. She said that her son was very friendly. "I don't know why the people had to do dem that", she said. Father and son were buried on Tuesday afternoon at the Charity Cemetery. Judith said that she saw the bodies but couldn't make out too much because of their state. She said that she did see a wound on her son's leg but his face and other areas of his body were "mashed up" and she couldn't tell much about them. She said that she was told by the doctor that the bullets damaged her husband's spine and head and her son suffered multiple gunshot wounds.
The grieving woman stated that at the moment she has not yet thought about the future. Her four other children, ages 16, 14, 11 and 6, all go to school.
Relatives criticized a report in the Guyana Times which stated that "drug-links" were not ruled out.  "That is wrong", an upset Judith said, stating that the newspaper should get its information correct before publishing any such item.  She said that the Guyana Times should have approached the family and gotten their information before putting such things in the newspaper. Meantime, she is fearful of the murderers of her husband and son. "Right now I scared because I don't know is who", she said.
This is the second time that tragedy has struck close to the family.  In December 2007, the bodies of three men Paul Da Silva, Rudolph Da Silva and Junior Gomez were found in Suriname after they had left for a trip to Venezuela, where they had operated a passenger boat service earlier that month. Rudolph Da Silva was Romeo's nephew. No one was ever charged and the killers were never identified.
Around the Web