President Bharrat Jagdeo and Jordan's King Abdullah II explored the possibility of agricultural trade and held talks on boosting cultural and diplomatic relations during their first meeting in the Jordanian capital Amman on Wednesday.
The president is in Jordan to boost bilateral relations and attract investment to Guyana, a Government Information Agency (GINA) press release said. Jagdeo had said that Guyana had much to gain from moving its economic diplomacy from Europe to Brazil, China and the Middle East.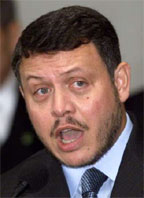 Jagdeo told the Jordanian leader that his government is willing to work with foreign investors and highlighted the investment opportunities in the agriculture sector. The leaders also explored the possibility of Guyana exporting agricultural and other products to that country. The agenda also included talks on collaboration in technology, education, health, tourism and energy and climate change.
King Abdullah II noted that the global financial crisis has raised concerns about his country's future relations with the international financial markets and emphasized that such a relationship must be based on countries changing their response to the challenges of the crisis.
Jagdeo then reiterated the need for small countries to coordinate their efforts to ensure that the developed world makes decisions that would benefit all stakeholders. He also said businessmen from the two countries need to work towards finding a better mechanism for trade and economic cooperation.  According to GINA, Jagdeo will also meet with Jordan's Prime Minister, members of the Amman Chambers of Commerce and businessmen.
On his arrival in Amman, Jagdeo was welcomed by Minister of State for Legal Affairs Salem Khazaleh and Guyana's Honorary Consul Rudyn Gewaar. Jagdeo has also met with leaders in Greece and Libya which were among the first countries outside of Europe that he visited on his Middle Eastern tour. The president's Middle Eastern tour started in Syria where he met with President Bashar al-Assad to discuss possible areas of cooperation and investment with regards to culture, tourism, transport and the interventions that can be made to the benefit of the peoples of both countries. He also met with Cyprus President Demetris Christofias where similar discussions were held. At the end of this visit both leaders had agreed that small countries must cooperate to protect their interests particularly in the light of the current financial crisis.
Around the Web