Twenty-one-year-old Ryan Hescott who is accused of discharging a loaded firearm at a policeman and unlawful possession of a firearm and ammunition pleaded not guilty yesterday to all three charges when they were read to him by Acting Chief Magistrate Melissa Robertson at the Georgetown Magistrate's Court.
It is alleged that on March 15 at Middle Road, La Penitence, Georgetown, Hescott of 155 Middle Road, with intent to maim, disfigure or cause grievous bodily harm, discharged a loaded firearm at constable 14948 Mark Garnett.
It is also alleged that at the same place and day, Hescott had in his possession two .38 special ammunition without a licence. On March 15 also, the said Ryan Hescott allegedly had in his possession a .38 special revolver without a licence.
The defendant vigorously denied being involved in any of the incidents and asked the magistrate repeatedly for bail to be granted to allow him to seek medical attention for a wound he had sustained when he was shot by the police in his right arm.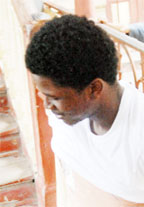 He told the court, "My Worship I de sleeping when I hear gunshots an wake up, suh when I going outside I see somebody running pass by me door but by time I meet outside me aint see nobody."
The defendant then explained that moments after he was confronted by the police who informed him that they were in search of a wanted man that had to be him. "My worship, deh come an seh how deh looking fuh some wanted man an duh man is me an one a dem just shoot me in me hand.  I tell them me aint know wuh dey talking bout an deh carry me out de yard on de road an start beating an kicking me up." The accused said also that the officer that shot him wanted him dead. According to him, "Meh Worship de one wah shoot me seh ah should a kill yuh, I does shoot fuh kill, I don't do unfinished business."
He added  that after the policemen had beaten him, one went a few yards away and came back with a gun saying that it was his [Hescott's]. "One a dem come meh Worship an seh look we find dis gun is you own."
The police in a release had said that Ryan Hescott had brushes with the law and had several matters in court. According to the police, "as the ranks approached the house where the wanted murder suspect Alpha Hudson was hiding, Ryan Hescott opened fire on the police who returned fire hitting him to his upper right arm and recovering the firearm and ammunition. Alpha Hudson managed to escape".
According to Police Prosecutor Denise Griffith, "the story that the defendant wants this honourable court to believe is far from the truth." She stated that on the day in question, the police, acting on intelligence gathered were notified that a man wanted in connection with a murder charge was hiding out at the defendant's home. According to Griffith, when the police arrived at Hescott's 155 Middle Road, La Penitence residence he allowed the wanted man to escape and opened fire at the ranks who returned fire  hitting Hescott in the process.
Hudson is wanted by the police for the murder of Elson Fullington who was stabbed on June 23, 2005 at Avenue of the Republic during an altercation. Andrew Rodney was also charged in the matter.
The unrepresented Hescott was remanded to prison and his matter was transferred to Court Five for March 31.
Around the Web