Dubbed "the most fabulous restaurant ever seen in Guyana" and comparable to those around the world, the New Thriving restaurant threw open its doors amidst much fanfare yesterday, returning to Main Street after nine years.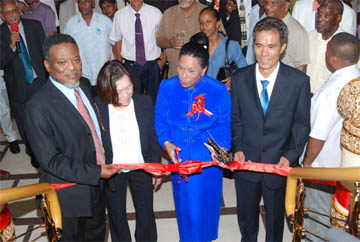 Filled to overflowing, in a sumptuous setting, the three-storey restaurant was graced with the presence of Prime Minister Samuel Hinds, performing the functions of President, his wife Yvonne, government ministers and members of the business and diplomatic community, among others. Apart from the usual facilities, the building boasts a conference room and five private dining rooms.
The opening marked the return to Main Street, of the popular brand, nine years after the original location was destroyed by a fire in 2001 farther down the street in the Park Hotel.
Proprietor of the restaurant, Xiao Guang Zhao, said yesterday was a special day in the life of the New Thriving Company and a dream come true. He said that the opening is a testimony to his company's confidence in the economy, the government and the Guyanese people. He thanked Demerara Distillers Limited (DDL) Chairman, Yesu Persaud and City Mayor, Hamilton Green, among others for their support. The New Thriving has two other branches in Kitty and Camp Street.
One of these might be closed, as Persaud, who was the guest speaker and a financial advisor, said that he does not think that they will be continuing with all three locations. Recalling the history of the New Thriving Company, he said that they had always planned to return to Main Street but there were some delays beyond Zhao's control.
Persaud said that the restaurant is the most spectacular, modern one in Guyana and a Chinese restaurant unbeatable in the Caribbean.  He noted that he had travelled quite a bit and "this is something classic". He said that the proprietors, Zhao and Che Jian Ping, who are naturalized Guyanese have done Guyanese proud reiterating that the restaurant is the best in the Caribbean and comparable to any in any part of the world.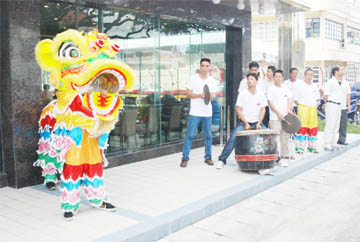 Hinds, in his address said that the owners had come into Guyana at a difficult time in the country's history and congratulated them for their achievement.
Attendees were also regaled with performances by the National School of Dance and singer, Jessica Xavier before tucking into the lavish buffet.
Around the Web