As police intensify their investigations into the brutal murder of two Pomeroon men, ranks have identified a man who may have information linked to drug trafficking which could see a breakthrough in the case.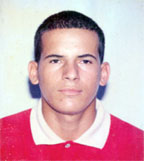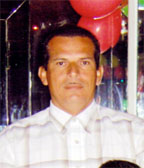 Crime Chief Seelall Persaud said yesterday that the man who hails from the Pomeroon area is in police custody and may know what happened, adding that the information he has is related to drug trafficking.
The decomposing remains of Romeo De Agrella, 41, and his son, Clint De Agrella, 20 of Grant Strong, Hope, Lower Pomeroon River were found on Monday afternoon, days after they failed to return home.
A post-mortem examination revealed that they died from multiple gunshot wounds.
In a surprise twist, Persaud informed Stabroek News when contacted that the information provided  by  the dead men's wife and mother respectively, to the police in relation to the fish business they were involved in, has not been substantiated.
The woman had told the police that the two men would make regular trips to Venezuela where they sold salted fish. They would then return with another type of fish – hassar, which they would export to other countries.
Following investigations it was revealed that the woman had not been accurate about who the men conducted business with.
Asked about the fish trade, Persaud said that it is a business that has been in existence for sometime but he said cryptically that persons do not return to Guyana with hassar alone.
He added that the dead men's backgrounds were checked and it has been confirmed that they were related to two of the men who were discovered dead in Suriname in 2007. That incident has also been linked to drugs.
In December 2007, the bodies of three men Paul Da Silva, Rudolph Da Silva and Junior Gomez were found in Suriname after they had left for a trip to Venezuela, where they had operated a passenger boat service earlier that month.
Rudolph Da Silva was Romeo's nephew. No one was ever charged and the killers were never identified.
According to a police release, investigations have revealed that the victims had left Venezuela to return to Guyana last Friday and after not returning as expected they were reported as missing to the police on March 22.  The release said their bodies were found on Monday with gunshot wounds while their boat which bore bullet holes was recovered, minus the outboard motor engine.
The boat was found by the occupants of a passing passenger vessel, overturned in the Waini River. It was subsequently pulled ashore.
The men had made contact with their relatives last Friday saying that they were on their way home but when they failed to arrive their family became worried.
De Agrella's wife, Juliet had told Stabroek News that on Saturday she received a call from someone in Venezuela asking if he had arrived home and she questioned whether he had indeed left. She had strongly criticized a report in the Guyana Times which said that drug links to the killing were not ruled out. "That is wrong", she said.
The decomposing bodies of the two were discovered three miles apart in an area called Iron Punt in the North West District.
Juliet and a relative, Ryan Gonsalves were arrested but later released after being questioned. Gonsalves was fingerprinted and released late Wednesday.
Relatives were upset that he had been described as a suspect in newspaper reports and also that he had been detained. "I believe that the police should search for the people them (the killers) instead of holding the wrong person in custody", said Judith adding though that the Morawhanna police were very helpful.
The woman said that her husband was a quiet person and she knew of no trouble that he had with anyone and he "lived good" with the neighbours. She said that her son was very friendly. "I don't know why the people had to do dem that", she said. Father and son were buried on Tuesday afternoon at the Charity Cemetery. Judith said that she saw the bodies but couldn't make out too much because of their state. She said that she did see a wound on her son's leg but his face and other areas of his body were "mashed up" and she couldn't tell much about them. She said that she was told by the doctor that the bullets damaged her husband's spine and head and her son suffered multiple gunshot wounds.
Around the Web