According to a press release, Alexander brings to his new post a wealth of experience and knowledge of the operation of the University, having worked at both the junior and senior administrative levels as well as the academic level of the institution.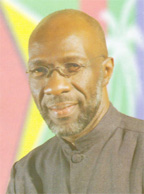 The new Registrar joined the academic staff of the University of Guyana in 1988 as Research/Fellow Lecturer in the Institute of Development Studies, Faculty of Social Sciences. He served as Dean of the faculty from 1993 to 1994. In 1994 he was appointed the first Deputy Registrar of UG, a post he held until his present appointment the release said.
Alexander is the recipient of numerous awards, among them the 20-year, long-service award in 2008 and the 40th Anniversary award for meritorious service to the university in 2003.
The release further stated that Alexander's ability and application in the field of education has been recognised and lauded both locally and abroad. He has demonstrated commitment to the growth and development of the university and is at present overseeing the reorganisation of the Registry, which on completion, is expected to improve the delivery of the services offered in the division.
Around the Web