Bandits broke into a house at Lovely Lass Village, West Berbice around 2 am yesterday and stole a Dell laptop computer and other items worth over $400,000 after reportedly spraying the occupants with a chemical.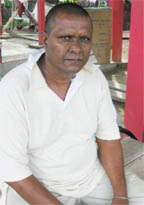 Oswald Dutchin told Stabroek News that he was in the house with his wife Ranice George and their 14-year-old daughter but they were not aware that the bandits had broken in and were removing items.
It was not until the door was slammed shut by accident as the men were escaping that he and his wife were awakened. He said he immediately got up to check and saw a man running down the dam behind his house.
Upon checking he realized that the laptop, a DVD player and two cellular phones were missing. He said he and George felt a burning sensation on their faces and figured that they had been sprayed with a sleep-inducing chemical.
A gas stove in his kitchen was also removed from its spot as if the bandits were planning to steal that as well.
They also helped themselves to food that was on the stove and soda from the refrigerator.
The bandits also removed four large bottles of pepper-sauce and eight bottles of alcoholic beverages that he had wrapped for his sister to take back to the United States today. His sister was staying at some other relatives' house in the same yard where his house is located.
A bicycle that one of the bandits apparently used was found in the relatives' yard while another one was found later at Number 27 Village with a DVD cord wrapped around it.
Dutchin said he raised an alarm and neighbours came out to investigate. He also recovered the pepper sauce and alcoholic beverages at the back of the yard.
He told this newspaper that he contacted the police and they responded promptly but they were unable to make any arrests. The police who were on a patrol had been investigating another break-in at Bush Lot.
During that incident the bandits stole a television set, a DVD player, two VCRs; all with remote controls, an MP3 player and two cellular phones with chargers among other items.
They gained entry to the house by removing three louvre panes from a window in his washroom in the lower flat of his building. The bandit even made himself at home and used the washroom and had enough time to smoke right there.
The owner of the house did not wish to give details of the incident but he has recovered all the items expect for the MP 3 player and the cellular phones. A suspect has been arrested in connection with that break-in.
Around the Web