Eleven tributes paid to former president Janet Jagan summed her up as having left an indelible mark on the history of Guyana, but said a look beyond her political life revealed a simple woman who  mothered two young children even as she took on the struggles of the poor and the oppressed.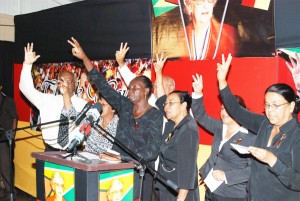 It is not every day that a Janet Jagan is born, her party comrades and friends said at a memorial service held at Freedom House yesterday, and as such the life she so selflessly gave to others in a foreign country she later made hers, must be remembered and eulogised in her death.
Speaker after speaker told of the little and great experiences they had with Mrs Jagan and of her contributions to this nation. People turned out in their numbers last evening to pay tribute.
The former president and first lady, who was accorded Guyana's highest honour in the Order of Excellence (OE), breathed her last early Saturday morning at the Georgetown Public Hospital (GPH).  She was not only Guyana's first female president but also its first female prime minister and for many years she held the post of general secretary of the PPP — a party she founded with her husband and others — because of her great organisational skill.
She "delicately nursed" the PPP from infancy to childhood, "shepherding it through the rebellious adolescent years with the firm yet gentle hand as general secretary," Minister of Youth, Sports and Culture, Dr Frank Anthony said.
Her contribution to Guyana was unique, exceptional and praiseworthy, said Senior Counsel Ashton Chase, who had worked besides Mrs Jagan and former president Dr Cheddi Jagan for many years.
And she was not a mere "witness to our history but an active participant, a creator of our history," Anthony said.
And yet she was a woman who fought many struggles not least of all against corruption and she did this majestically according to Cabinet Secretary Dr Roger Luncheon.
History would describe her as the greatest woman who has ever walked the soil of Guyana, Mannie Singh of the Association of Concerned Guyanese (GCA) said.
But it was the simple things she did with her children; taking them to the zoo and the Botanical Gardens and walking with them on the seawalls as described by her daughter, Nadira Brancier that really made her a woman's a woman. Because in all she did for others and the country she never forgot that she was a mother with children who needed her just or more than others needed her. She loved fried chicken and many a days that was their picnic lunch whenever the family got the opportunity to visit the many creeks.
And then there was the romantic aspect of her life — that which could have been told by romance novelists — of the nurse who quit her job to marry a man from a foreign land and to journey to that country and make it her own.
The stories about Mrs Jagan are indeed many and great, but Nadira remembers her mother as a "loving, warm and kind mother" and the seawall was where she walked with her husband for relaxation.
In fact in his usual fashion her son, Dr Cheddi (Joey) Jagan, last evening advocated for the powers that be to clean up the seawall in his mother's memory, describing it as being in a deplorable state.
Acknowledging that he did not always agree with his mother's politics or with the PPP, Joey in his booming voice said while his mother gave her life to Guyana — more than 60 years of her 88 years — she wanted nothing in return not even to drive in one of the "fancy Prados". According to him, she did not want any airports to be named after her, "leave that for my father", but rather just for the seawall to be cleaned so that people could enjoy it.
Mrs Jagan taught her children morals and values and while Nadira is not political like her father and mother, she knows that their lives were fulfilling and she is proud of who they were and what they did. She was set on her mother being cremated in the month of March, as her father was years ago, so that when people remember Dr Jagan they can also remember Mrs Jagan and not forget what she did and stood for. Nadira said she hated the way people tried to put her mother down and "I hate the people who do it."
Unique contribution
Putting Mrs Jagan's work into perspective Chase recalled that she was instrumental in many strikes by workers for a better way of life and he cited the bauxite workers' strike in Linden and the sugar workers' strike that started at Enmore, both of which were in the 1940s. He described her contributions in the strikes as being "unique."
In those days, Chase said, after 6 pm in Linden if you were not a Canadian or of a certain colour you could not go into Watooka; workers had to work long hours under terrible conditions and unions were not recognised. During the strike Mrs Jagan along with the Public Affairs Committee was instrumental in raising funds to keep the strike going and she stood up for the workers' rights.
She publicised their plight and gained support for them and at the end of the strike the racial barrier was broken and a collective labour agreement was signed. She and her husband helped the workers to make representations before a committee that was set up to investigate the conditions under which they worked.
Chase said Mrs Jagan was again instrumental during the demonstration of the sugar workers which ended with five workers being shot and killed by colonial police at Enmore.
That strike was in 1948 from April 22 to June 16 and again Mrs Jagan raised finance to sustain the strike which when ended saw the workers' lives improving and them receiving better wages. Women no longer had to leave their jobs when they became pregnant.
In the area of politics, Chase said Mrs Jagan helped to lay the roots of what the PPP is today and was instrumental in getting Guyanese to vote making representation before the commission that was sent from England to investigate the plight of citizens.
She "struggled for independence at a time when people had no voice" and she later became the first female to be elected to the Georgetown City Council and first women to be elected as deputy speaker. Even after the government was suspended by the British who accused the PPP of introducing communism to Guyana, she continued to fight.
Her struggles saw her spending six months in prison, being banned from Trinidad at one time and attacked on many fronts, according to Chase, but she still continued the struggle.
While he feels Mrs Jagan resigned as president in 1999 because of ill health, Chase said he also feels she stepped down because of the constant harassment she received from a "certain political front."
He said that as tributes are paid to the "father of the nation" Dr Jagan, many forget that it was his wife who stood steadfastly beside him "not behind him" and helped him to achieve all that he did. He used three Ds to describe the fallen freedom fighter, "devoted, dedicated and determined."
General-Secretary of the party's women's arm, the Women's Progressive Organ-isation (WPO), Indra Chandarpal said that there was no other woman before Mrs Jagan who championed the cause of women as she did. She said Mrs Jagan had a purposeful life that was filled with many challenges and while she had an engaging personality on the surface, beneath she was strong and purposeful person.
"JJ was the person I would have gone to when I needed advice on issues relating to the WPO," Chandarpal reminisced.  She said Mrs Jagan would not want them to mourn her but to pledge to continue to carry on the work of the PPP.
Anthony said Mrs Jagan was there "in the trenches with her husband and other comrades challenging the status quo, fighting for Guyana's independence."
He said she fought to prevent rigged elections 1967, 1973, 1979 and 1986 and her expose "brought shame to the PNC, when she documented some of her findings in a booklet entitled As Crooked as Barbed Wire and in her articles in the Mirror and Thunder.
"She was there courageous, strong with a tenacity of purpose always bettering her best.
She was a woman of many firsts, breaking invisible ceilings, opening up opportunities, allowing us to discover ourselves, to dream, to aspire," Anthony said.
Also paying tribute to Mrs Jagan were Prime Minister Samuel Hinds, President of the Guyana Agriculture Workers' Union, Komal Chand, General-Secretary of the Rice Producers Association Dharamkumar Seekraj and General-Secretary of the PPP, Donald Ramotar.
Mrs Jagan will be given a state funeral today before being cremated at Babu John, Corentyne.
Around the Web